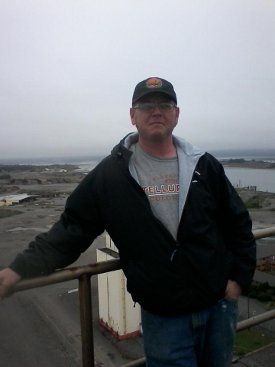 Harbor District Commissioner Aaron Newman, a commercial fisherman, was arrested by the California Department of Fish and Wildlife Saturday, the Lost Coast Outpost has learned.
Mark Michilizzi, a Sacramento-based spokesperson for the department, confirmed that Newman was booked into jail on felony perjury charges involving applications for licenses and permits for the taking of wildlife. Michilizzi said that he couldn't release much more information at the moment, as the department's investigation is ongoing, but he confirmed that DF&W wardens have forwarded a report to the District Attorney's Office, along with recommended charges.
Jail records show that Newman was released on bail shortly after he was arrested Saturday morning.
Newman is a high-profile member of the local commercial fishing industry, in addition to his service on the Harbor District Commission. A short bio on the site of the Northcoast Regional Land Trust, where he serves on the board of directors, lists some of his other accomplishments:
He is the President of the Humboldt Fisherman's Marketing Association (trollers/crabbers), First Division Harbor Commissioner for the Humboldt Bay Harbor Recreation and Conservation District, on the Board of Directors of the Pacific Coast Federation of Fishermen's Associations, California Advisor to the Pacific States Marine Fisheries Commission, representative on the Salmon Advisory Subpanel of the Pacific Fisheries Management Council and Chairman of the California Salmon Council.
Michilizzi said that more information should be forthcoming when the department finishes its investigation, or if and when the district attorney presses charges.