---
Rail-Heads Seek Stillman Ouster From NCRA Board
---
PREVIOUSLY: Notorious Arcata Liberal Alex Stillman Appointed to North Coast Railroad Authority Board
###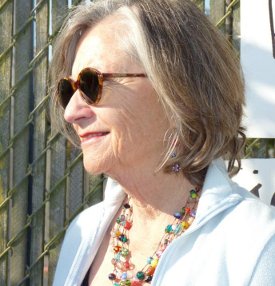 A couple of months ago we had some fun with the news that Arcata City Councilmember Alex Stillman had managed to get herself appointed to the board of directors of the North Coast Railroad Authority, a body that has heretofore been more or less dominated by True Believers in Humboldt's imminent return to the glory days of striped suspenders and choo-choo caps. In our writeup we channeled the voice of those who fervently dream of the train's glorious arrival on the shores of the bay after a decade and a half of absence, showering the land with riches untold. Hopefully we had a few yuks in the process.
Well, who's laughing now?
At its regular meeting tomorrow night, the Eureka City Council will take up the matter of Mayor Frank Jager's apostasy in voting for Stillman over full-bore railhead Doug Strehl, mayor of Fortuna. And someday next month, the Mayor's City Selection Committee — a body that comprises the mayors of Humboldt County's seven incorporated cities — will come together to decide whether or not to rescind their appointment of Stillman, and if so, who to appoint in her place.
The pressure seems to have come from attorney Bill Bertain of Eureka, who wrote an ominous letter to the Mayor's City Selection Committee shortly after Stillman was appointed, back in May. In his letter — grab a copy here — Bertain makes the case that the selection of Stillman to occupy the NCRA board seat set aside for representatives of the incorporated cities along the old railroad line violated City Selection Committee internal procedure. Bertain charges that the committee's governing rules and procedures require candidates for such appointments to submit their materials to staff three weeks in advance of a meeting. Neither Strehl nor Stillman did this. Therefore, Bertain says, the appointment is defunct. Unless the committee rectifies this, he hints, the committee is about to be on the nasty end of a lawsuit.
Bertain also declares Stillman ideologically unfit for the office.. "By her public statements for quite some time now, Alexandra Stillman has disqualified herself from serving on the NCRA Board of Directors," Bertain writes. "Although I understand that Alexandra Stillman has recently declared her support for passenger rail service between Eureka and Arcata, I believe she has consistently and vocally opposed to the return of freight service to Humboldt County."
The threat was apparently enough to prompt the committee to review the matter with its lawyer and revisit the topic at a future meeting. But Marcella Clem, the executive director of the Humboldt County Association of Governments, under whose aegis meetings of the committee are held, says that her agency is completely confident that Bertain has no legal case. The three-week requirement, she told the Outpost, is not an application deadline; it says only that if candidates for a position wish to have their materials distributed to other members of the committee, then they have to get those materials to staff three weeks in advance. In fact, Clem said, any elected official could have shown up on the day of the meeting itself, back in May, and thrown their name into the hat then and there, with no advance notice at all.
So when the committee reconvenes, there will be two items on the agenda. 1). Should the committee reconsider its appointment to the NCRA? If so, and only if so: 2). Who should it appoint?
So is Stillman out? Maybe not! Back at the original meeting, Eureka Mayor Frank Jager initially supported Stehl but switched his vote to Stillman in order to break a deadlock. Only six of the seven mayors were present — Ferndale Mayor Stuart Titus was absent, for reasons unknown. Jager's vote-switch has prompted the Eureka City Council to take up the matter at its meeting tomorrow night. The council will, in all likelihood, strongly recommend that Jager support Strehl in place of Stillman. In spite of his strong support for trails and rail skepticism —
"It just boggles my mind that people would want to tie up [a trail] section between Bracut and Eureka waiting for something to happen," Jager told the Outpost — he indicated that he would follow the council's pleasure.
But that would only take us back to the original 3-3 deadlock, with Arcata, Blue Lake and Trinidad voting for Stillman and Rio Dell, Fortuna and Eureka holding up the Strehl banner. The whole question then hinges on Ferndale Mayor Stuart Titus — a reasonable person in a sometimes less than reasonable town.
The Eureka City Council will meet at 6 p.m. tomorrow (Tuesday) at Eureka City Hall.
---
SHARE →
---