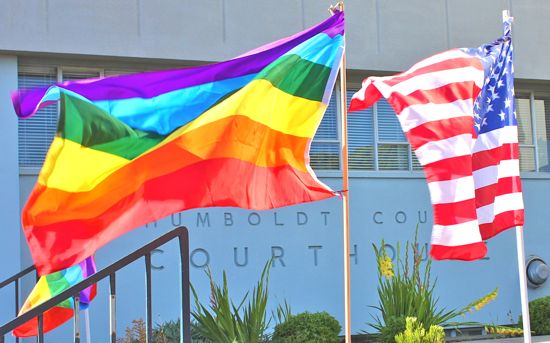 (Click photos to "biggify" 'em.)
Humboldt took to public spaces Wednesday evening to celebrate the pair of historic marriage equality-advancing decisions handed down that morning by the Supreme Court. At a pair of rallies in Eureka and Arcata, local gay marriage supporters waved signs, sang songs and planted rainbow flags in the ground to commemorate the momentous day.
At the larger Eureka event, over 100 people gathered in front of the Humboldt County Courthouse to celebrate as cars whizzed by offering solidarity honks. Sheets of paper listing the day's chants were distributed — "Two, four, six, eight - give us equality in every state!" for example. Local long-in-the-tooth rabble rousers The Raging Grannies sang songs of freedom. Members of the Sisters of Perpetual Indulgence blew kazoos. Local gay rights advocate Todd Larson has been pleased with the local community response.
"Humboldt is very supportive," Larson said. He noted only two instances of older passersby giving the thumbs down to the colorful courthouse crowd, a phenomenon that doesn't worry him. "It's a generation away — when they die it'll all be over. And that's what we're waiting on."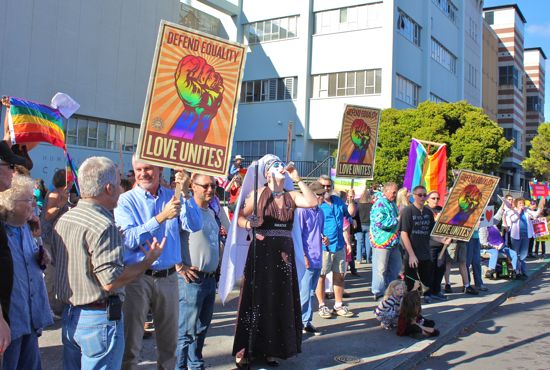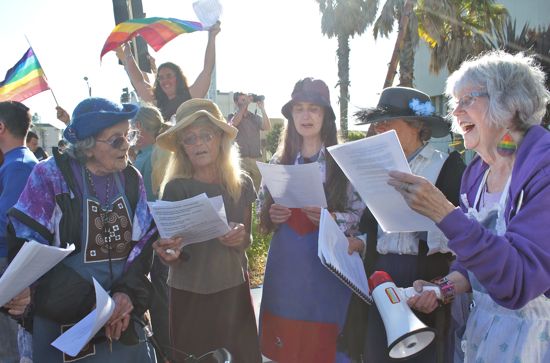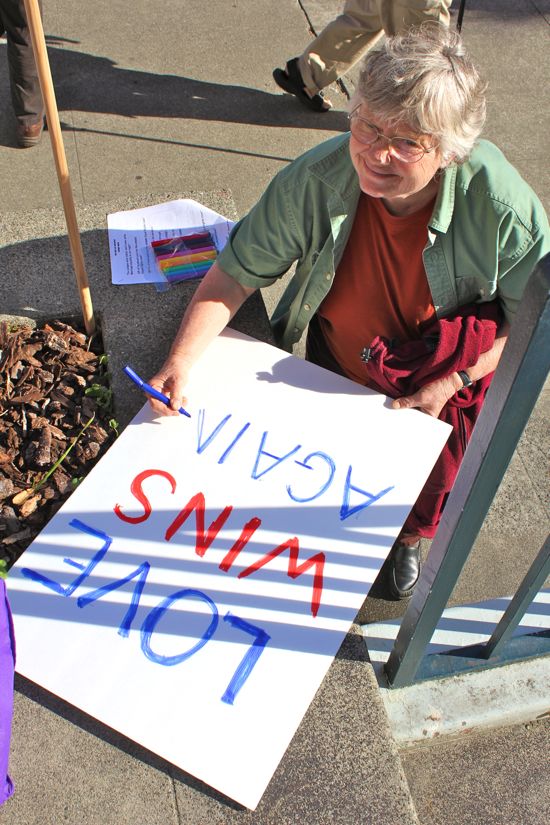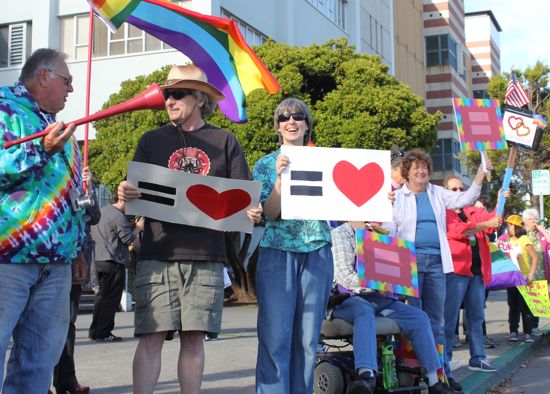 Up in Arcata on the Plaza, a smaller crowd of around 80 people gathered around the town flagpole. People took turns at the mic sharing personal stories and their takes on the significance of the day — the PA was powered by the battery from a nearby car. After an hour of testimonials, local musician Sarah Torres strapped on an acoustic guitar and belted out a rousing rendition of Buffalo Springfield's "For What It's Worth." Her mom held the mic to her mouth as she sang.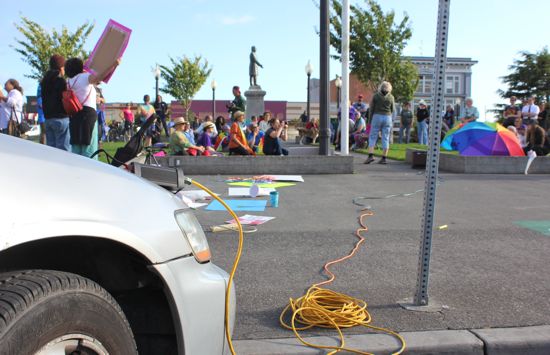 One other exciting update your LoCO was tipped off to at yesterday's rallies: While you can't marry your same-sex partner in Humboldt just yet, when that day rolls around know that you now have a very colorful option available when it comes to deciding who will perform your ceremony. Breaking: The Eureka Sisters of Perpetual Indulgence have been ordained!
"Under our umbrella we have formed a secular faith and the majority of our fully professed members are now legal clergy," reads an online announcement by the Sisters. "Sisters are available to perform all clergy acts, including but not limited to marriages and funerals!" (In case you're curious, yes, they'll do your opposite-sex marriage too, of course.)
The times, they are, in fact, a-changin'.