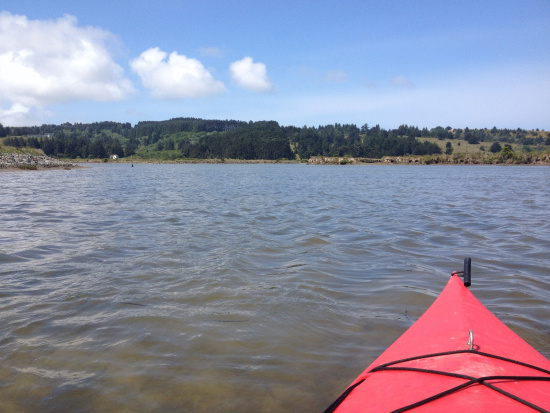 Adventure awaits!
Average Surfers, Great Whites
Surfrider Foundation just released poll results profiling the "average" surfer, who is apparently 34, owns four boards and makes $75K per year. That last number is especially important because, as we know by now, trying to save things (like waves and beaches) for their intrinsic value is a much harder battle than one that utilizes economics: i.e., the coast is important because California's economy depends on it. Surfers are a powerful activist force because they spend a lot of money.
A poll limited to California's North Coast would look a little different, of course. How much money does the average surfer spend on shoulder surgery? On having bone growths in the ear removed? On ER runs after being hit by a great white?
Beyond the financial cost of recovering from one of nature's greatest predators having a go at your body, there's the physical recovery and psychological headtrip. A crew of local filmmakers documented the story of Scott Stephens, who was hit by a shark last year while surfing off the Samoa peninsula. Catch the premier tonight at Arcata Theatre Lounge — see the Lowdown for a trailer and full details.
Please note, although individual encounters are clearly terrifying, as a species, humans are far more dangerous to sharks than the other way around.
Free Kayaking
Want to get out on the bay? Pacific Outfitters offers kayak demos this weekend. Gliding around Humboldt Bay on a kayak brings out a sense of adventure and of peace. Great combo! As the ad says, get outdoors!
Be an Ambassador
Coastal Naturalist Ambassador Training
Saturday, June 8, 10 a.m - Noon
Humboldt Coastal Nature Center
Help introduce people to the beauty and natural diversity of our coast by becoming a volunteer Coastal Naturalist Ambassador through Friends of the Dunes. Coastal Naturalist Ambassadors assist with guided walks, programs, tabling events and staffing the reception area at the Humboldt Coastal Nature Center. The training will include an overview of the various land management agencies on the north spit and public access on their properties, Friends of the Dunes mission and major programs, and a short guided walk on the trails at the Humboldt Coastal Nature Center.
Driving on the Beach
1. Please do it only where permitted. Despite whining to the contrary, rules governing the appropriateness of four-wheeling across the sand are designed to protect habitat and the species dependent on it, not, as some would have it, impinge upon some misguided notion of birthright. Being able to legally and carefully drive on the beach is great for access. Don't blow it for the rest of us by being the jerk who drives where he's not supposed to.
2. If you do mosey your vehicle out onto the sand, here's a tip! Happy almost-summer!