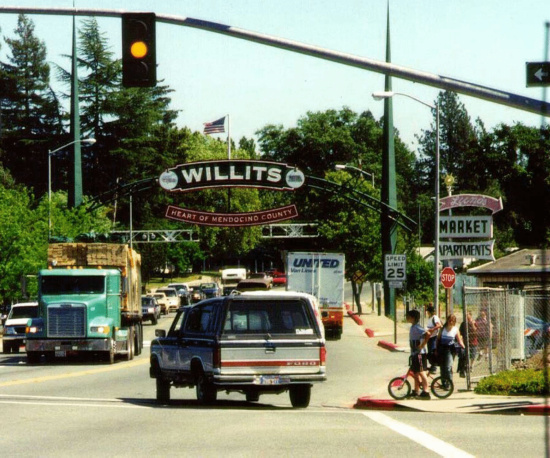 The Willits Bypass issue is heating up. The scheduled Caltrans' project which proposes to put in a road around Willits to the east has local environmental groups up in arms. A tree sitter, the Warbler, has occupied a large pine tree in the affected area. LoCO has approached both environmentalists and Caltrans and is in the process of gathering information in order to present a solid factual piece about the scheduled work.
Meanwhile, here is a quick update. Those opposed to the Willits Bypass have plans to shoot a nude photo similar to this one taken in Richardson Grove. (Found here on the Wild California site.) The photo, which enchanted many, is part of the Tree Spirit Project which consists of many fine art photos by Jack Gescheidt that are themed around nudity and nature. The Tree Spirit photo shoot will occur this Saturday. For more information go here.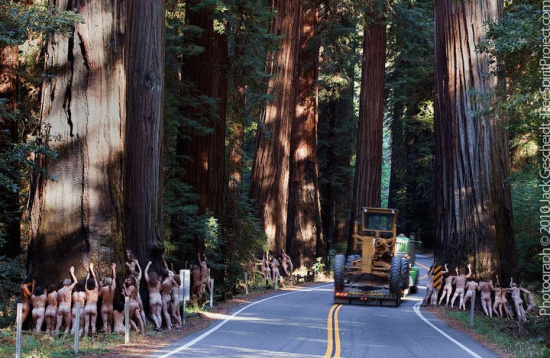 Caltrans has just put up a new blog with "the latest official news and information regarding the Willits Bypass Project." The most recent post is
"The Bypass is Good for the Children."
The post argues that removing traffic (particularly diesel trucks) improves air quality and protects the lungs of children.
Caltrans Press Release:
Caltrans announced today that a new website is available offering the latest official news and information regarding the Willits Bypass Project. The Willits Bypass Project News, located at willitsbypass.wordpress.com, will include news releases, multimedia content, and will address trending questions and common misconceptions about the project. It is mobile phone friendly and has a subscription feature which allows subscribers to receive an email notification of new posts.


The Willits Bypass Project will relieve congestion, reduce delays, and improve safety for traffic and pedestrians along U.S. Route 101 through Willits in Mendocino County. This $210 million highway improvement project is funded by $136 million in Proposition 1B funds, the 2006 voter-approved transportation bond.

Please direct comments or content suggestions regarding the Willits Bypass Project News to Phil Frisbie, Jr., Public Information Officer, at 707-441-4678 or phil.frisbie@dot.ca.gov .