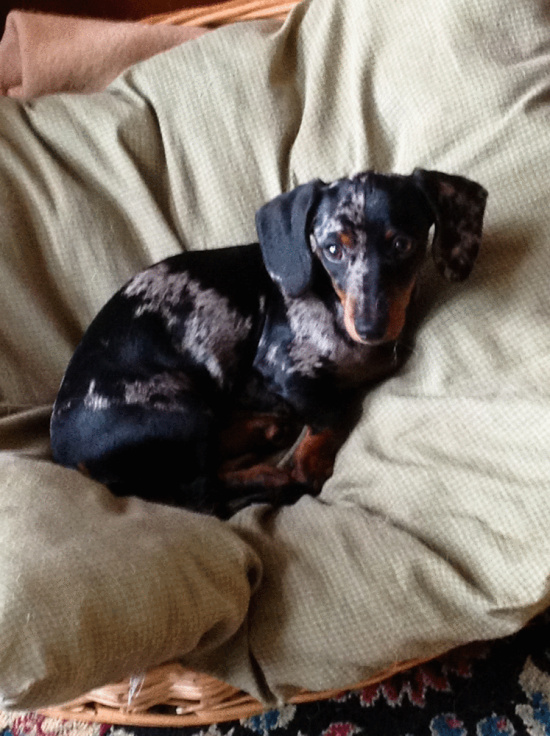 Photo taken by Sandy Antonson while she was caring for Gigi. (Photo added 3:40 P.M.)
UPDATE 12:10 P.M.: When Sandy Antonson went to the beach Wednesday evening around 6:30 P.M. with a friend to walk their dogs, she was only vaguely aware of the manhunt for Shane Miller. At the beach, they met a man with the "cutest, sweetest" little puppy. He told them that the dog had followed some hikers in from the Lost Coast Trail. Antonson offered to care for the dog because she was local and the man was not. She could more easily find the owner, she thought.
The first night, Antonson said, "She instantly followed me around." But the dog seemed subdued. The next day the dog, she said, seemed "very content" and "lay in my lap a good part of the day." Later, Anotonson said, the puppy "pepped up." By the next day she was playful and energetic to the point of chewing up Antonson's slipper.
Antonson said that though she noted the coincidence of the dog being found with Miller's being in the area, she didn't really think "someone like Shane Miller [would have] a little weiner dog puppy."
Antonson searched for the owner, checking bulletin boards and the Humboldt CO. Paws Cause. After awhile though, "We started calling her 'Peanut,'" Antonson said. She took the dog to the Ferndale vet where the attendent said the dog was only about 12 weeks old and still had her milk teeth. Antonson got the tiny creature "her first vaccination." She began to think to the dog as her own. Then she got a call Monday to bring the dog down to command center.
She says that right away she asked, "You are not going to take her away from me, are you?" But, the officers verified that "she was the Miller dog and took her away…They said she was evidence….I was really distraught Monday night."
She says she fell in love with the puppy. "I think she loved me, too."
Original post below……………..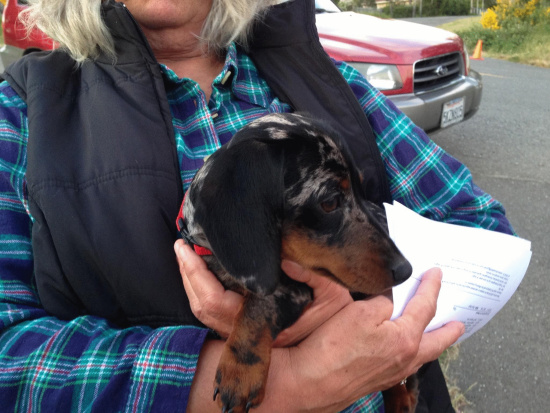 Humboldt CO. Sheriff Press Release:
The Humboldt County Sheriff's Office and Shasta County Sheriff's Office is seeking assistance from the public with the identity of two hikers who were on the beach at the end of Lighthouse Road, Petrolia on Wednesday May 8, 2013 during the late evening hours.

Investigators were aware on the night of the homicide that the Miller family pet "Gigi", a tricolored Dachshund, was unaccounted for. On Monday May 13, 2013, Humboldt County Detectives learned that a woman from the Petrolia area was in possession of Gigi. This subject was contacted and it was confirmed the Dachshund she possessed was Gigi. The woman told detectives she was on the beach at the end of Lighthouse Road in Petrolia during the late evening hours of Wednesday May 8, 2013. Two hikers were walking off the beach and were carrying Gigi. The hikers said they found the dog and were not able to locate an owner. The woman offered to care for the dog and took possession of Gigi. Names were not exchanged with the hikers and their identity is not known. It would be greatly beneficial to this investigation and the search of Shane Miller, if the location Gigi was originally found was known.

The Humboldt and Shasta County Detectives are asking the persons who located Gigi call the following numbers to provide that information. Shasta County (530-245-6025) or Humboldt County (707-445-7251).

Gigi remains in the care of the Humboldt County Sheriff's Office and arrangements are being made for the safe return of Gigi to members of the Miller family. Gigi was in excellent health when she was found by the hikers and injury free. Attached are photographs of Gigi.

Update on Search for Miller

The search for triple homicide suspect Shane Miller continues this morning. Efforts are a continuation of yesterday's tactics, consisting of foot searches in the King Range trails and door to door searches of residences and cabins in the Petrolia, Honeydew and Shelter Cove communities. As a reminder there is a 5:00 PM community meeting scheduled at the Honeydew School. The King Range Conservation Area remains temporarily closed to all recreational activities.

Agencies and Resources Assigned:

Humboldt County Sheriff's Office, Shasta County Sheriff's Office, Trinity County Sheriff's Office, SWAT Teams from California Department of Corrections and Rehabilitation at Pelican Bay and High Desert, Fortuna Police Department, Humboldt County Drug Task Force, California Highway Patrol, Humboldt State University, Eureka Police Department, helicopters from the California Highway Patrol and Homeland Security.

PREVIOUSLY: