---
Notorious Arcata Liberal Alex Stillman Appointed to North Coast Railroad Authority Board
---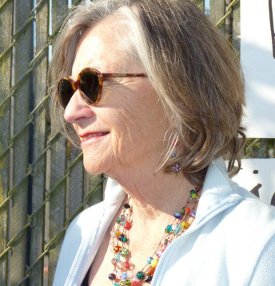 Last week, by a close and contested margin, a local group of elected officials representing the seven Humboldt County cities blasphemously voted to appoint notorious Arcata liberal Alexandra Stillman as the city representative to the North Coast Railroad Authority.
"I just figure it's important because Arcata has so many rail lines going through it, and we have the rail-with-trail project…" Stillman told the Lost Coast Outpost earlier this afternoon. "Arcata is very affected by rail."
She also expressed concern for environmental issues along the railroad right-of-way, including restoration efforts aimed at endangered or threatened species, and spoke about the board focusing on quote-unquote feasible projects.
Stillman beat out red-blooded American Doug Strehl, mayor of Fortuna, by a vote of 4-2. (Ferndale was absent at the meeting.)
Despite her vile and longstanding association with the pathetic Arcata liberal creed, Stillman may actually have the most direct experience with railroads of any elected official on the North Coast. As she noted in her application, her father, Guy Stillman — who, incidentally, is the man responsible for Arizona's refusal to honor Daylight Savings Time — is the creator of Scottsdale's McCormick-Stillman Railroad Park, a veritable Valhalla of choo-choo fanboys everywhere.
Then again, she's also a step-decendant of bleeding-heart John D. Rockefeller, whose liberal largesse funds all kinds of pansy do-gooder projects these days. That dude hated railroads.
The Westboro Baptist Church could not be reached for comment.
For more on the current state of the NCRA, check Ryan Burns' cover story in last week's North Coast Journal.
###
PREVIOUSLY: Notorious Arcata Liberal Connie Stewart Appointed to the Redwood Acres Fair Board
---
SHARE →
---