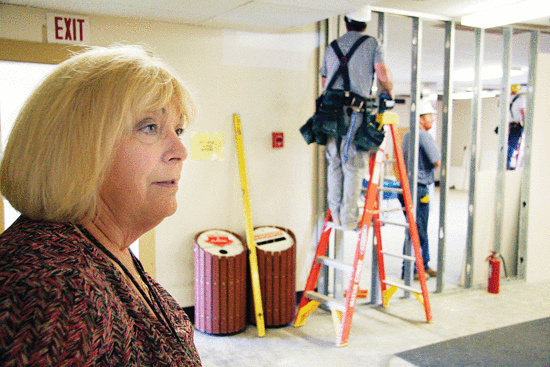 Jacquelyn Hulsey
Tomorrow morning's Board of Supervisors meeting looks to be a bit of a hot one.
Supporters of local airline service — and perhaps of good government in general — will be showing out to protest an item deeply buried in the Supes' third-quarter budget review that pertains to management of the Eureka-Arcata airport. Briefly, that item recommends that the board lay off an airport program manager (among other staff) in order to close a budget shortfall. (Read the full report from County Administrative Officer Phillip Smith-Hanes here.)
This is drawing much ire on the Facebooks and IRL. Why?
In the first place, the person to be laid off is Emily Jacobs, who has ridden point on the county's effort to attract new air service. This at a time when the county is sitting on a fat federal grant aimed at accomplishing just that — new routes to LAX, perhaps, or perhaps elsewhere. Who will pick up the Jacobs' slack?
Well, presumably that would be the Jacobs' boss — County Airport Manager Jacquelyn Hulsey. And that brings us to the second point. It would be understating matters to say that people involved with airport business have little confidence in Hulsey — as the Journal's Ryan Burns has shown again and again, whether it be failing to report crashed planes, sending employees into asbestos-choked sheds or simply taking county money for months and months of paid administrative leave, Hulsey's tenure has been less than inspirational. And yet for some reason the county seems to protect one of its most headache-inducing employees unwaveringly.
This isn't a time-set item, so there's no telling exactly when the games begin. It is the Lost Coast Outpost's understanding that there will be quite a turnout to beg the Supes to keep Jacobs on the job and perhaps maintain some hope of getting new air routes here. Don't expect much direct criticism of Hulsey — any direct statement to the effect that she should be the one getting the boot, if money is tight — but if you listen you'll be able to hear what is left unsaid.