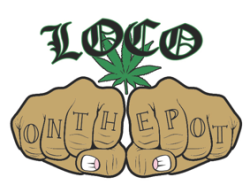 The weed growing scene is underground or private, somewhat at least. Sure, we can all use the bird's eye view of Google Earth find a shit load of grow sites all freeking over the place… But Google Earth doesn't afford an up-close view of what's happening on the ground.
In contrast, law enforcement operations — busts and raids — and the press releases that follow sometimes do afford us ground-floor tours of marijuana growing operations. Through law enforcement press we can attach faces to marijuana grows, we can see inside greenhouses, we can see people's guns and piles of cash, we can see where the waste goes and where the water comes from. And through the eyes of law enforcement, sometimes we see some pretty egregious grows.
This is what we see.
As frustrating as it may be for good, green growers and their supportive community members, aspects of the weed growing scene in the Emerald Triangle are sensational, especially when viewed through the eyes of law enforcement. If you are a good NorCal grower, a grower doing it right, man… You gotta get your work out there for the world to see! Oh, wait. Let's not forget Matt Cohen. Even if you are doing it right (at least by local standards), law enforcement might still raid ya. Damn. Better keep your work under wraps as best you can.
Anyway, here is list of noteworthy busts — basically the top ten law enforcement press releases — centered around summer/fall operations. Big thanks to Kym Kemp for helping me round out the compilation.
10. From the week of July 15: Three Day Operation in Trinity Co. Yields nearly 75,000 Plants Says Sheriff's Office.
This press release made the top ten for the sheer number of plants eradicated. From the Trinity County Sheriff's Office press release: "A total of five Hispanic drug trade origination marijuana complexes were raided yielding a total of 74,616 growing marijuana plants that were eradicated. No arrests were made."
9. From Sept. 23: TSO: Trimmers Charged with Cultivation
Trinity County Narcotics Task Force, Department of Fish and Game and California Highway Patrol officers found plants, bud, a damned up creek, garbage and a "make-shift outhouse that was next to the creek" on this raid. Officers detained six people and a warning was issued in the press release:
"Individuals caught in private marijuana gardens claiming to be hired to trim and process marijuana will be charged with cultivation and production for sales."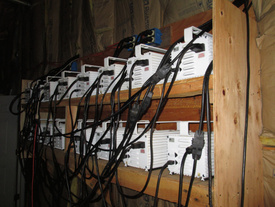 Seventy-two light operation in the Fieldbrook-ish area.
8. From July 10: Another Big Bust in Fieldbrook — 1449 Growing Plants Plus Leaky Generator, etc.
This bust made the list for its size as well — according to the Humboldt County Sheriff's Office press release, one of the structures at the property was two stories and an estimated 3,500 square feet and they found a total of seventy-two 1,000 watt lights. The "Another" in the title of the LoCO post refers to separate arrests made in Fieldbrook on the same day.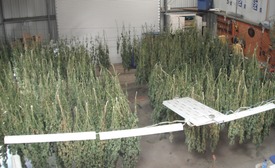 Sixteen arrests made in conjunction with this operation in Bridgeville.
7. From Sept. 9: HCSO Arrests 16 for Cultivating Marijuana in Bridgeville
On the night of September 9th, Sherlock Sims smelled a big bust by following LoCO's "Booked" before the HumCo sheriff's crew even let out its press release detailing sixteen arrests. According to the press release, when county Drug Task Force officers arrived at the grow site, one suspect fled on foot, and there was a chase. Law enforcement found approximately 375 pounds of drying weed, four greenhouses, "a stack of medical marijuana slips approximately 3" thick," plus "a significant amount of environmental damage." Thirteen arrests were made; three more arrests followed on an adjacent parcel later in the day. Officers discovered "additional significant environmental violations" which included "allowing raw sewage to drain into Little Larabee Creek" and "unpermitted roads."
In reaction to the names of those arrested, LoCO commenters cried "Russian mob," "Bulgarian cartels"… A debate ensued.
6. From Aug. 29: Large Law Enforcement Action in Trinity Pines [UPDATE 125 Officers Involved]
The Trinity County Sheriff's press release says "a Multi-Agency Narcotics Task Force implemented search warrants on 23 parcels in the Trinity Pines subdivision of Hayfork." The big ass raid (125 officers!) was conducted by a team that was "put together through North State Marijuana Investigation Team (NSMIT), Bureau of Land Management (BLM) and the Trinity County Narcotics Task Force after a long investigation into parcels that have been purchased and rented by for the purpose of cultivating marijuana for sales."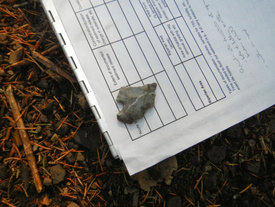 Native American artifact found at the grow site.
5. From Oct. 1: Bridgeville Mini-Mega Grow Sucks Up Stream, Disturbs Archaeological Site, Says Sheriff
According to the press release, when officers showed up at this grow site, they found some plants, some bud and some cabins, but "No one was home." The press release details environmental damage from a shoddy water diversion — "the stream had been dug up to access more water," and a lesson in local hydrology:
"The stream is a tributary to Dairy creek which feeds into Burr Creek. Burr Creek is Salmon and Steelhead habitat per California Fish and Wildlife which is concerned the illegal water diversion will cause sediment to flow downstream and affect the Salmon and Steelhead spawning area."
The press release continues:
A State of California Environmental Scientist was on scene assisting with the service of the search warrant and evaluating environmental damage. The scientist located a spring and adjoining locations that were excavated and graded by heavy equipment. At the spring a prehistoric Native American archaeological site was detected. It was evident that the prehistoric archaeological site was damaged by grading and excavation work associated with the marijuana grows. [Emphasis mine.] An Archaeologist was consulted and confirmed the items located were pre-historical Native American.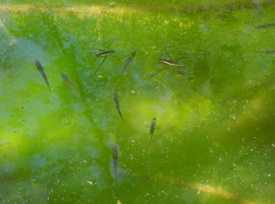 Bruce Wayne Turner allegedly put fish at risk.
4. From Aug. 27: Illegal Pumping Leads to Marijuana Bust — But Is It Too Late For the Fish?
According to the press release, this bust was triggered by complaints to Fish and Wildlife about the "dewatering of Mattole Canyon Creek which is a spawning ground for Salmon and Steelhead." A Fish and Wildlife Warden obtained a warrant and officers moved in on two different parcels at the same time. At the Dutyville Road parcel, officers found a pump in the creek, spilled oil in the river bed and they found "where the suspects were storing oil and gas cans in the river bed." They also found a bunch of cash and plants. Bruce Wayne Turner was arrested.
At the second parcel, officers found another pump in the creek being used to water weed plants and "the same environmental issues and damage as the first location." Two people were at the property but they were not arrested due to "logistical issues with transporting them to the jail."
Kym Kemp reported on this one. She said:
Though the Lost Coast Outpost can't speak to this situation in particular, what often occurs is that as one pool is drained, the intake and sometimes the pump is moved to another pool — repeatedly sucking away entire fish habitats. As the water disappears, predators move in. Egrets, blue herons and raccoons will eat every single fish. Sometimes the person pumping doesn't adequately screen the intake valve and small creatures are vacuumed up to die. Fish that do manage to evade the predators are left to gasp in increasingly shallower pools. Then they suffocate and die. Scavengers then eat their bodies leaving only the shrinking damp spot as a gravestone to the creek teeming with life that once flourished.

Insiders say the Department of Fish and Wildlife are swamped with reports just like this one and don't have the manpower to deal with all of them.
Ramik Green — kills rats and mice. Do not smoke their weed.
3. From Sept. 24, 25 and 26: HSO: Estimated $21 Million Dollars of Marijuana Seized
On the 24th, Humboldt County Sheriff's Deputies and CERT cleared weed on Barnum Timber Property near Garberville. According to the press release, "Deputies located and eradicated 9,056 growing marijuana plants." They also found "rodenticides, fertilizers and environmental damage caused by clearing of brush and timber, along with a stream diversion."
On the 25th, they cleared more weed on Barnum Timber land and "adjacent private property" to the tune of 5,717 plants. They found the all the same eco violations and "a trail of marijuana leaves which they followed to a residence." Upon obtaining a search warrant, deputies found the residence to be processing facility complete with 600 pounds of weed. No people around though…
And on the 26th, the law enforcement crew eradicated 6,750 weed plants on Benbow State Park property and on — again — "adjacent private property." They found more environmental damage.
All told, the "estimated value of the total marijuana seized is conservatively 21 million dollars."
2. From June 17 and 19: Man Found Dead Near Hundreds of Budding Marijuana Plants
On June 17th, the Mendocino County Sheriff's Office responded to anonymous tip from someone who said that their relative had been murdered at a location on Spyrock Road in Laytonville. When officers arrived at the location, they found "a deceased Hispanic adult male suffering from an apparent gunshot wound." They also found "approximately 300 budding marijuana plants that had been recently cut as if to be harvested."
According to the press release, the victim "had been camping at the location while tending to the marijuana plants."
Two days later, on the 19th, Sheriffs Detectives identified the victim as a young man named Hugo Olea-Lopez from Upper Lake. From the autopsy it was determined that Olea-Lopez "appeared to have died as the result of a single gunshot wound to the torso."
At the time of the June 19 press release, detectives had yet to determine a motive or to identify any suspects.
This hot dog was misused.
1. Triple raid on July 29, 30 and Aug. 1: Dead Fisher Found in Mj Cultivation Site and Over a Ton of Fertilizers, Rodenticides, etc.
On the first day of the raid at the first grow site: "Three civilian scientific researchers with a background in wildlife, toxicology and ecology were with the officers when they entered the marijuana site." Guess what they found:
1230 lbs dry fertilizer
28 lbs liquid concentrated fertilizer
14 lbs 2nd generation anticoagulant rodenticide bait
32 oz. Carbaryl insecticide
32 oz. Carbofuran ("banned chemical in United States due to its toxicity to people and wildlife")
"Deputies also located fresh hot dogs strung from a tree on treble fish hooks, along with two dead deer carcasses and a bird, a Hermit thrush. Officers also witnessed environmental damage to the watershed."
On the second day (July 30) at the second grow site officers eradicated 8,000+ plants and they found more environmental damages and a "recently deceased Fisher in the garden site."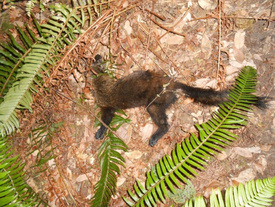 According to the press release: "Fishers are currently under review by the State and Federal Government to be listed as an endangered species."
On the third day at the third grow site near Orleans, the same team eradicated 376 plants on USFS property.
Toward the end of August, the Humboldt County Sheriff's Department released this news:
The necropsy of the deceased young male adult Fisher located in the marijuana garden in Six Rivers National Forest on 07-31-2013 was recently completed by a scientific team of researchers. The necropsy confirmed suspicions that the Fisher was in fact killed due to Carbamate insecticide poisoning, specifically Methomyl. Methomyl is a highly acute toxic insecticide, its use restricted by the United States Environmental Protection Agency. The Fisher also had Brodifacoum a 2nd generation anticoagulant rodenticide detected in its system. The researchers believe the Fisher experienced convulsions, muscle tremors and respiratory distress during its death.

There were pieces of meat believed to be hotdog inside the Fisher's stomach…
More interesting busts from 2013:
January
February
March
April
May
June
July
August
September
October