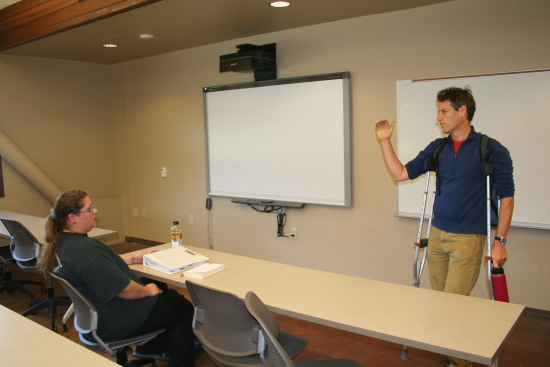 You'd think being bitten by a shark is a valid reason to stay home from work for at least a week. Or not. According to a press release from College of the Redwoods:
CR English instructor back teaching two days after shark attack

A great white shark bite to his left thigh didn't stop Jay Scrivner from teaching his English writing class at College of the Redwoods on Tuesday morning, only 48 hours after the attack occurred.

"I teach a basic skills English writing class and I didn't want the students to get behind," said CR English instructor Jay Scrivner while standing outside his classroom with the aid of crutches. "I want to set a good example for my students. They all have crazy stuff and challenges with which they deal. I really like what I'm teaching now."

Scrivner was surfing on a perfect Sunday morning about 8 a.m. near the North Jetty on the Samoa Peninsula when a great white shark suddenly appeared and bit his left thigh. A surfing friend of Scrivner's saw the attack, swam over to him and encouraged him to paddle to shore. Blood was squirting from his leg, but after making sure he was in one piece, he made it to land.

Others on the beach applied pressure to the wounds to limit the bleeding and tied up his leg with a T-shirt. An ambulance brought him to St. Joseph's Hospital where he had surgery to repair his wounds that required 30 stitches.

"I was lucky that no arteries or tendons were severed," Scrivner said Tuesday. "After 24 hours laying around the hospital, I wanted to start moving around. The doctor said it would be good for my leg to walk on it and I came here to teach today."

Scrivner has taught at CR for several years over the past decade. He has also taught at the Northcoast Preparatory Academy in Arcata. He is married and has two young children.

Scrivner said he definitely plans on surfing again once he heals. However, he has had several dreams the last few days about getting bit by a shark.

"I have surfed a lot by myself," he said, "but after this I probably won't surf alone again. One thing I remember about that shark is how healthy it looked. The skin around its mouth was so white and smooth and its eyes were beautiful orbs of dark color."

The Humboldt Surfrider organization will be holding its Ocean Night at Arcata Theater Lounge on Friday, Oct. 11 and the proceeds from it will help pay for Scrivner's medical expenses. Donations to Scrivner and his family can also be made via the Humboldt Surfrider PayPal account at humboldtsurfrider@reninet.com

For Ocean Night, the doors at 6:30 p.m., with the night's film. "Surfing and Sharks," beginning at 7 p.m. That film was coincidentally scheduled in advance of this latest North Coast shark incident.