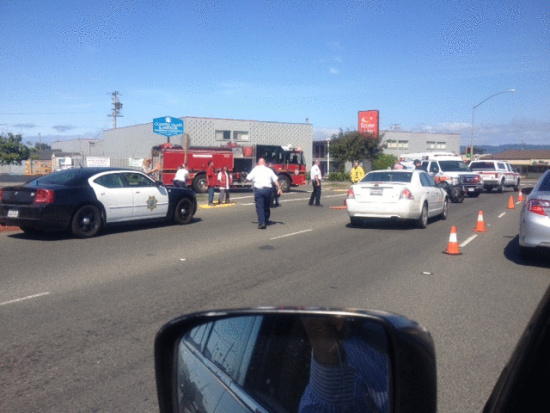 UPDATE 6:11 P.M.: CHP Press Release:
On 9-11-13 at approximately 2:49 p.m. Eureka Police Officers were dispatched to 5th Street at "R" Street on the report of an injury traffic collision involving a motorcyclist and a pedestrian. Upon arrival Officers contacted 63 year old motorcyclist Michael Zeibak of Eureka. Zeibak sustained a shoulder injury but declined medical aid. Ziebak said that he was driving eastbound on 5th Street in the left lane at about 20 mph when a pedestrian ran out in front of him. Ziebak laid his bike down in an attempt to avoid the pedestrian, but the two collided.

The pedestrian, 52 year old James Josey of Eureka, was located lying on 5th Street being treated by emergency personnel. He was soon transported to St. Joseph Hospital to be treated for what later appeared to be a minor leg injury. Josey, who was highly intoxicated, (almost four times the legal limit of a DUI driver) stated that he tried to run across 5th Street, but soon realized that he shouldn't have. Josey was also found to be on probation for public intoxication. Part of his probation was to not use or possess alcohol.

Witnesses at the scene were contacted and confirmed that Josey ran out into 5th Street in an unsafe manner. The collision is still under investigation.
Original post below—————————
Lost Coast Outpost news intern Tom "Scoop" Newhouse — that's him in the rear-view — sends along a report of a bad traffic accident on Fifth Street in Eureka. A traffic collision that appears to have involved a motorcyclist has traffic at a crawl northbound near the Samoa Bridge.