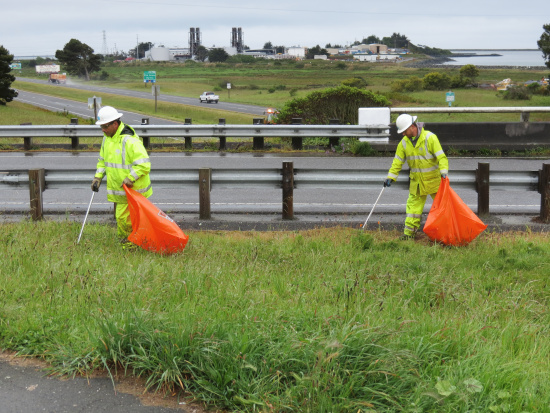 Yesterday was Caltrans' Annual Litter Day and Caltrans Maintenance crews statewide dedicated time to litter removal. The Caltrans Fortuna Maintenance Crew cleaned up an area near U.S. Highway 101 at the Harold G. Larson Memorial Vista Point at Humboldt Hill and at the King Salmon Avenue Undercrossing.
From Caltrans:
Litter is still a big problem in California. Every year Caltrans spends millions of dollars and thousands of hours picking it up. Litter is not only ugly; it can lead to pollution in our lakes, rivers, and beaches. Cigarette butts are the number one item littered in California — they are discarded by the millions, often causing roadside fires, clogging storm drains, and threatening our water quality and wildlife. In addition, motorists face the risk of accident, injury, and death as the result of trash and other debris that falls from vehicles hauling unsecured and untarped loads.

Statistics

Last year on annual Litter Day alone, Caltrans picked up more than 3,100 cubic yards of litter – enough to fill more than 190 garbage trucks. That was the largest amount of litter picked up in one day by one group in California, according to Keep America Beautiful.
Last year, Caltrans spent $62 million on litter removal, collecting enough litter, trash, and debris from freeways to fill more than 9,700 garbage trucks. Parked end-to-end, those trucks would stretch more than 50 miles.
If you are cited by a police officer for littering, you may be subject to a fine of up to $1,000 and up to 24 hours of community service.
Much of the trash comes from improperly secured and uncovered loads.
Cigarette butts are the number one item discarded on the state's highways. They cause roadside fires, clog storm drains and threaten water quality. Other commonly discarded items include plastic bags, tires, household furniture and appliances, foam packaging, can and bottles, ladders, and disposable diapers.
Recycling is also part of Caltrans' war on litter. We are partnering with Keep California Beautiful and the American Chemistry Council to install recycle bins at our rest stops throughout the state.

Adopt-A-Highway

Currently, more than 12,000 volunteers participate in the AAH Program, saving taxpayers an estimated $16.7 million annually in litter removal costs.

In the 2012-13 fiscal year, AAH Program participants picked up over 133,000 bags of trash from California's roadsides – enough to fill almost 1,200 garbage trucks.

One way the public can help is by participating in Caltrans' Adopt-A-Highway (AAH) Program. To become a volunteer or support the program through a paid sponsorship, call 1-866-adopt-a-hwy, or go to: http://adopt-a-highway.dot.ca.gov.