UPDATE 8:31 a.m.: The fire is 100% contained. Cal Fire posted on Facebook, "#‎McClellanFire‬ [final] on Hwy 36 at McClellan Mountain Rd in Dinsmore. (Humboldt County) is now 100% contained at 37 acres."
UPDATE 5:52 p.m.: CHP Dispatch posted, "fire req so unit return to scene, they found a significant grow w/ traps/ req so bring met team." [Possible translation: Fire Staging Commander requests Sheriff's Office unit to return to scene. Crews have found a significant grow with traps. The commander requests that the sheriff's Office bring the Marijuana Eradication Team.]
Then CHP Dispatch follows up with "per staging fire commander cannot get into grow, too many traps, this area is in a hot zone, need to get in to fight fire."
UPDATE 5:45 p.m.: Scanner traffic is reporting booby traps on a marijuana grow that is making it difficult for firefighters to go into the area.
UPDATE 5:10 p.m.: Caltrans spokesperson says Hwy 36 is currently one way controlled traffic. Below is a photo from Caltrans crew on the site. Hwy 36 motorists are being asked on Caltrans' Facebook page to "drive with caution and plan for delays.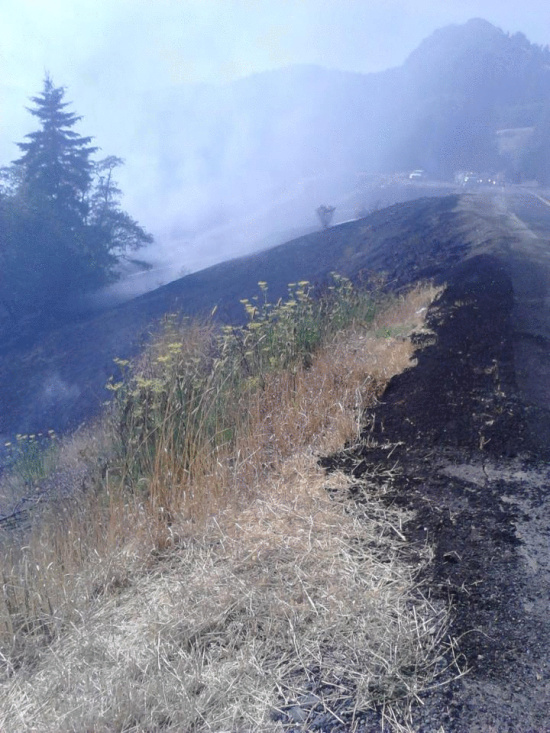 UPDATE 4:30 p.m.: According to Cal Fire spokesperson Division Chief Mark McKey, there are "evacuations in place." He also said the McClellan Incident has reached 30+ acres. It is burning grass, brush and timber land. There is 0% containment and structures are threatened.
McKey said that multiple aircraft and ground resources are responding. The ground conditions, McKey said are "hot and windy." He said that the temperatures were near 100 degrees and the humidity was only 18%. He said, "We're cautiously optimistic" but it is "too early to tell."
UPDATE 4:20 p.m.: Caltrans spokesperson Phil Frisbie, Jr. said, "Rt 36 will be closing near McClellan Mtn Rd at about 4:30."
UPDATE 4:05 p.m.: Fire fighter is reporting to dispatch that the fire is now 20 acres and "bumping the road." He asks dispatch to keep "continuing all resources."
UPDATE 4 p.m.: Dispatch is reporting a structure on fire.
###
Original post:
A 15 to 20 acre fire is burning up onto Hwy 36 near mile marker 31 according to a scanner traffic and reader reports. CHP dispatch shows Hwy 36 is being closed (though it hasn't been closed yet) and homes are reportedly being evacuated.
We have a video below.
Here is a map showing the location according to CHP dispatch.