Gah! Not kidding! Bwa! Sequoia Park Zoo press release below! (Excited mouth noise)!:
Zoo staff are pleased to announce the birth of two red pandas at Sequoia Park Zoo. The cubs, which were born July 9th, are a mere 14 ounces and about the size of a small kitten.

"We are very pleased that Stella Luna has given birth again this year," said Amanda Auston, Animal Care Supervisor. "She is very attentive to her two cubs, and as a result they are very healthy and growing bigger every day."

Animal care staff carefully prepared for the birth to ensure the comfort and safety of mom Stella Luna and her cubs. A remote camera system allows the zookeepers around-the-clock monitoring without disturbing the family in the den. Although the cubs remain inside the den with mom Stella Luna for up to 12 weeks, zoo visitors are able to view the interior of the den through a video monitor located near the Red Panda exhibit. The cubs may also occasionally be seen as she carries them to other den sites throughout the exhibit.

Sumo, the father of the cubs, and his mate, Stella Luna, were introduced to each other on Valentine's Day of last year. Four months later, baby Móhú was born on Father's day. In April, at 10 months of age, Móhú was transferred to Blank Park Zoo in Des Moines, in preparation for Stella Luna to give birth to new cubs. In the wild, cubs naturally leave their mother at about the same age and would not be present when new cubs are born.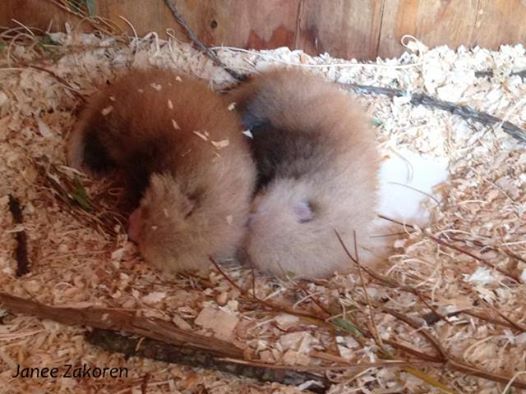 The pairing of Sumo and Stella Luna was recommended by the Red Panda Species Survival Plan, a cooperative zoo breeding program that ensures the sustainability of a healthy, genetically diverse, and demographically varied zoo population. Red pandas can have up to four cubs per litter, the average being two.

Sequoia Park Zoo inspires conservation of the natural world by instilling wonder, respect and passion for wildlife. Established in 1907, Sequoia Park Zoo is the oldest Zoo in California and one of the smallest accredited zoos in the country. Sequoia Park Zoo is located at 3414 W St. in Eureka. For more information visit: www.sequoiaparkzoo.net.
PREVIOUS LoCO ZOO LOVE: