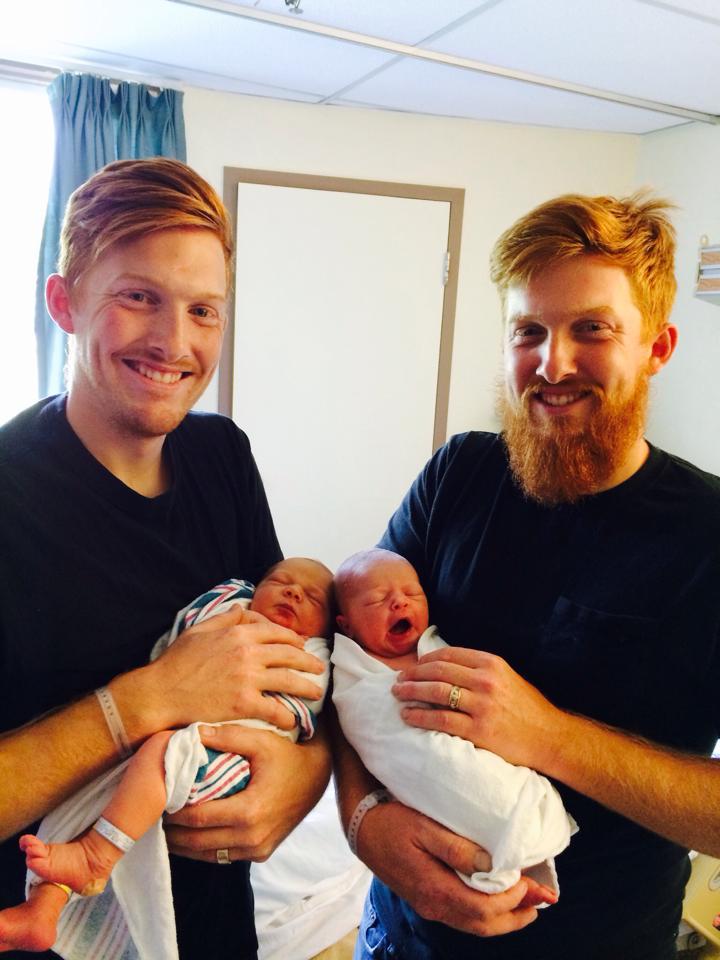 Twenty-four years ago, Susie and Pat Hawkins of Crescent City had their lives forever altered when they became the proud parents of identical fiery redheaded twin boys, Kevin and Patrick. Oh, time she flies. Fast forward to this week when those same boys blessed Susie and Pat with two separately born grandchildren.
You see, both the boys' wives gave birth at Arcata's Mad River Hospital in the last couple days, prompting the following burst of joy posted to Susie's Facebook page:
"This evening was a once in a lifetime experience … Our twin sons Kevin and Patrick each had their first baby … I am standing in the hospital hall with a new grandson on one side and a new granddaughter on the other side! Going back and forth to enjoy each amazing blessing."
Who are these bundles o' blessing? Well, baby Everett James Thomas Hawkins was born to Jael and Kevin Hawkins at 6:30 a.m. on Sunday — for the record, a day that just happened to be the couple's one year wedding anniversary.
One day later and one room over, baby Adelaide Charlotte Hawkins was born to Amanda and Patrick Hawkins at 9:28 p.m. Only a wall separates rooms 143 and 145 where the new cousins entered the world.
Congrats to the Hawkins clan from LoCO. This is an appropriate time for Humboldt to "Aww."