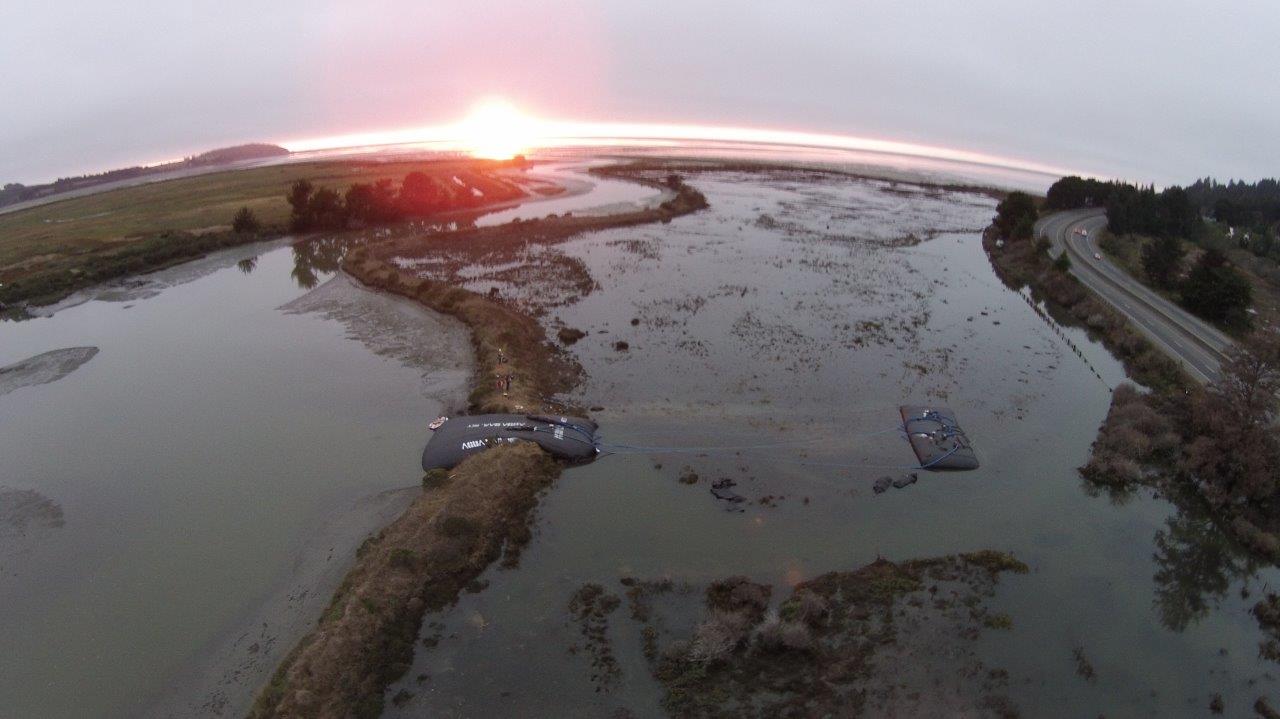 UPDATE #2: Ken Griggs, deputy manager at the Humboldt Bay National Wildlife Refuge, said a restoration project is ongoing. "Our intent for that whole unit behind the levee is to restore salt marsh by adding fill material," Griggs said.
That material could come from a variety of other projects, with a likely candidate being the Salt River Restoration Project. Using dredge spoils, as mentioned in our original post, has been discussed, but issues such as contaminants would have to be considered and addressed. The U.S. Fish and Wildlife Service hopes to have permits lined up and begin the salt marsh restoration by next summer, Griggs said.
UPDATE, 3 p.m.: Aqua Dam VP Matthew Wennerholm followed up this afternoon with the following clarification:
I saw the post on LoCO, and I wasn't aware you'd publish my email in full. If I had known, I would have been more clear that what I discussed was one of several ways that land could be developed. I don't know the fate of the 50 acres, but I know that under the careful attention provided by the USFWS, it will be well cared for.

I apologize if there was any confusion with your readers about solidity of that potential project.

Thanks for publishing my pictures!
###
Original post:
Last week we reported on the levee that breached near College of the Redwoods, temporarily expanding Humboldt Bay by about 50 acres. That breach has now been plugged thanks to some ingenuity and massive water bags from Scotia-based company Aqua Dam, Inc.
Aqua Dam Vice President Matthew Wennerholm explained how it was done in an email to the Outpost:
ADI recently installed a 16' tall, 90' long DCE [double closed-ended] AquaDam into a breach in a local levee. Rather than surrender the field to its eventual fate as yet more mud flats, the U.S. Fish and Wildlife Service (Humboldt NWR) decided to plug the breach.

This field will be pumped out, and eventually filled with dredge spoils, to form more of the very scarce saltwater marsh. The levee we patched is not in good shape, and is expected to breach again sometime in the future. The tentative plan is to lay out ~2,000' of 8' tall AquaDams behind the bad levee to protect the field while a new levee is built behind the AquaDam.

Once that is done, the AquaDams will be removed, and the field filled in with spoils to levee height, to form the salt water marsh.
Below (and above) are photos from the project. Click 'em to make 'em bigger.