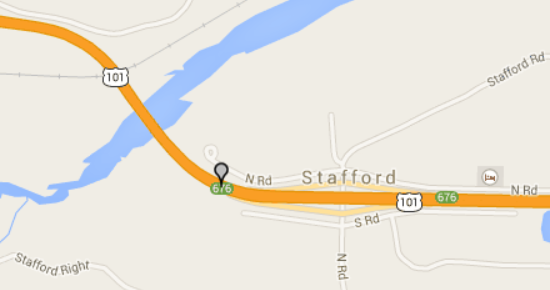 California Highway Patrol press release:
On December 13, 2014, at approximately 9:12 PM, Allen Eugene Steinwand, age 26, of Carlotta, was driving his 1993 Honda southbound on US-101 north of the Stafford Bridge. For reasons still under investigation, Mr Steinwand failed to maintain control of his vehicle and ran off the road. The Honda struck a sign and then traveled approximately 80 feet down a hillside. The Honda came to rest on the out-of-service railroad tracks which travel under the bridge. Mr. Steinwand, who was properly restrained, sustained major injuries. His passenger, Jesse Anderson, age 26, of Fortuna, was also properly restrained, and suffered minor injuries. Both occupants were transported to Redwood Memorial Hospital in Fortuna. Mr. Steinwand was subsequently arrested for felony DUI by the California Highway Patrol and released at the hospital prior to being transported by air ambulance to Santa Rosa Memorial Hospital for further treatment.

The California Highway Patrol Humboldt Area responded to the scene and is conducting the investigation. Personnel from Rio Dell Police Department, Scotia Volunteer Fire Department, Rio Dell Volunteer Fire Department, Cal Fire, and City Ambulance also responded to the scene.