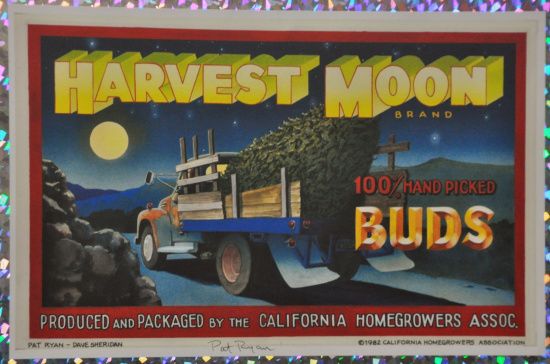 A poster first produced in 1982 signed by artist Pat Ryan was displayed in his booth at the Emerald Cup. It and other "Humboldt homegrown" art attracted attention from growers nostalgic for images from their youth and also from collectors of cannabis memorabilia looking to cash in on their purchases at a later date.
At the Emerald Cup this weekend, growers competed for prizes and prestige. However, this cannabis convention wasn't only about whose buds were the best, it was also about whose values will be carried forward as cannabis evolves into a legal business. At the Sonoma County Fairgrounds on Saturday and Sunday, hill growers with muddy boots and knit caps bumped elbows with snake oil salesmen and expensively dressed business entrepreneurs and investors. Long time activists and savvy money people both believed that those who made the right connections and captured the imagination of the cannabis community could fund successful social movements or make themselves rich.
Beyond the smoke that wafted among the booths and the music that throbbed from the stages, a battle was being fought between competing cultures. Or, more precisely, it was less of a battle than a dance designed to avoid a bloody war—a war that could destroy everything both sides wanted. Here, at the Emerald Cup, the old cannabis culture shook hands with the new. All factions need each other right now as the industry moves towards legitimacy. No one seems to want an outright war that will harm the legalization movement or impact wallets. Nonetheless, there was suspicion and anxiety and barbed comments.
While grinning consumers tasted dabs and growers jotted notes during cultivation workshops, the leaders of the activists groups figuratively and literally shook hands with the business entrepreneurs all the while worrying that they might be walking a path that will ultimately destroy their culture and their communities.
The activists guardedly watched the business interests and warned of the possibility of big money co-opting cannabis and its culture. The Executive Director of WAMM (Wo/Men's Alliance for Medical Marijuana) Valerie Corral cautioned that "you can feel the claws and you can feel the drool" of investors eager to make money off marijuana.
A grower at the Emerald Cup told the Lost Coast Outpost, "We're being invaded. If we don't protect ourselves by being a group, we're doomed."
Activists fretted that business interests looking to invest in what the investors believe may be a vast money making opportunity might ignore long held values of cannabis culture. Many of the true believers in cannabis as a political right, as a medicine or in hemp as an environmental savior wonder how they are going to continue to keep social issues in the forefront when business interests enter the marijuana world. Panelist Debby Goldsberry, who co-founded the Berkeley Patient Group and currently works to standardize cannabis medicines, urged growers and activists to "bring their values with them" as they work with the cannabusiness entrepreneurs.
Aundre Speciale, a founding member of Americans for Safe Access—a marijuana patient activist organization—speaking in a panel at the Emerald Cup, agreed adding, "People who are coming into the community for only money are going to find that that isn't a good business model…Giving back to the community and taking care of each other…will be the best business model."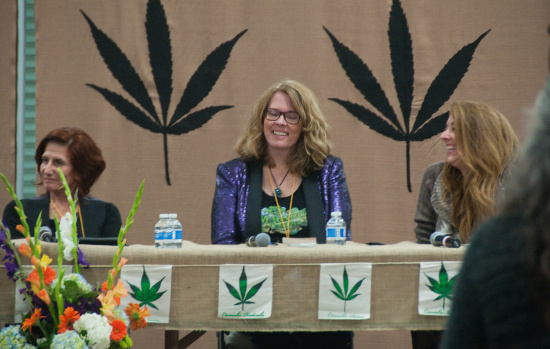 At the Emerald Cup, Valerie Corral, Debby Goldsberry and Aundre Speciale spoke together on a panel.
Activists also are concerned that the entrepreneurs don't value marijuana or its consumers. Aundre Speciale described a recent cannabusiness convention in Las Vegas as having "3000 people eager to come into the business…Not only did a lot of them not smoke, a lot of them looked down on those who did." (A quick perusal of the rules and regulations for the Las Vegas convention show that the plant and its buds were not of major interest to the organizers who strictly forbid "the use, distribution, or sale of any products containing THC…in the exhibit hall, conference sessions, or any other function space where the event is conducted.")
Nonetheless, many growers and older cannabusinesses are also concerned about profiting and not losing their place at the coming economic table that they feel they've earned. Leo Stone of Aficionado Seeds explained at one panel, "People are nervous and concerned in a capitalist culture about protecting the work they've done."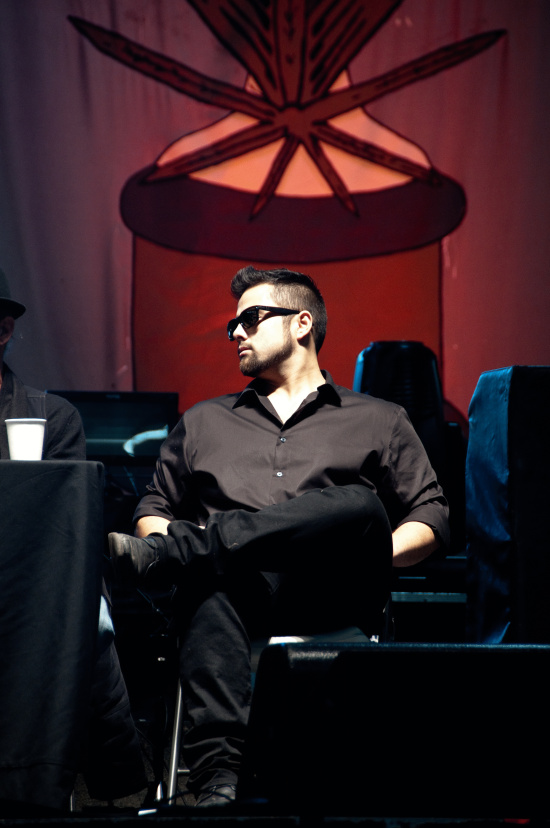 Leo Stone spoke on a panel at the Emerald Cup.
In the vendor pavilion, the anxiety was palpable as growers scrambled among the booths trying to find a way to make money as the old methods of selling their pounds slipped away. Older men with weather-beaten faces and rough hands stood shoulder to shoulder with tattooed young men staring with bewildered interest at CO2 extractors. Could they turn their pounds to dabs of gold with this?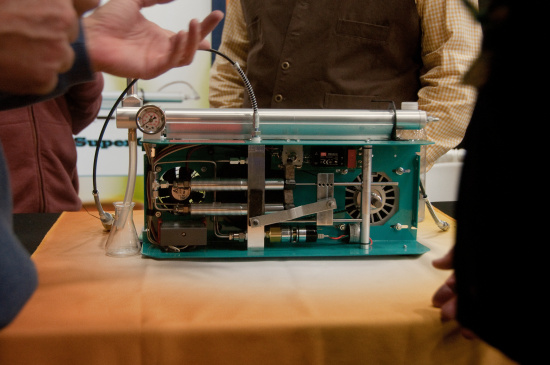 CO2 extractors like this small one pictured above are used to make cannabis concentrates such as hash oil.
Other growers carefully examined the entries into the flower contest. What could they do better next year to make their buds more competitive in the tougher marketplace?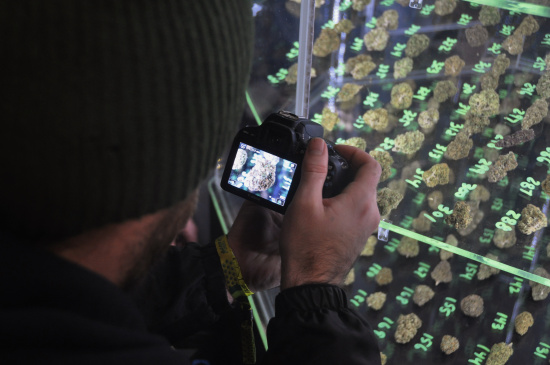 A man carefully captures a photo of a particular entry. Is it his? Or is it one that he aspires to grow next year.
The anxiety is pushing some long time growers to grow more and grow less carefully. One grower who wished to remain anonymous pointed out that it wasn't only entrepreneurs from outside the marijuana community who were changing its values. He said there were members of the community itself who were so eager to make money that they were willing to sell out social justice values and environmental concerns for a profit. "They're part of the cannabis community but they're ready to eat their own," he said. "They're canna-bals."
In spite of competing desires and goals, activists, business interests and growers all shared a common emotion as they gathered together at the Cup—hope. All of them want to better their lives, whether they see that as fattening their bank accounts or helping make a more just society or some mixture of the two.
On Sunday evening towards the close of the Emerald Cup, Tim Blake, its founder, spoke before a large crowd. He urged all the factions—growers, activists, and entrepreneurs to "come together as business people supporting the right kind of business."
The uneasy coalition formed between the differing factions may be fraught with suspicion and anxiety but so far it is holding. Will it make it through the attempts to create a legalization bill for 2016 that all sides can stomach?