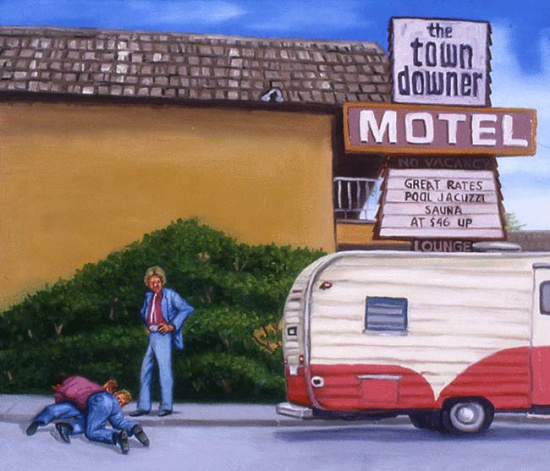 "The Downtowner," aka the "town downer," by local artist Jesse Wiedel
Humboldt County Supervisor Virginia Bass informs the LoCO that her next appointment to the county planning commission will be local construction company owner Kevin McKenny, whose properties include the apocalyptically dilapidated Downtowner Motel, which has been a thorn in Eureka's side for years.
Bass said McKenny's "vast experience and knowledge" will make him a good fit. She pointed out that he helped develop the Eureka Community Plan, worked on permit streamlining for the city and served 26 years as an elected member of the Humboldt Community Services District. He also served three terms on Humboldt County's Local Agency Formation Committee (LAFCo).
With the politically contentious general plan update back on its dais, the planning commission has been in the spotlight lately, and Bass seemed to anticipate criticism over her selection. McKenny will be yet another developer on a board stacked with property rights hard-liners, but Bass said McKenny won't be an ideologue. "He sees things from a much bigger perspective than just a contractor," she said. "He understands the importance of preservation of open spaces and the Williamson Act, [and] he understands that unrestricted growth is not what is needed."
Meanwhile, McKenny has been criticized for neglecting his own commercial property in Eureka. The Downtowner Motel, which could easily be a shooting location for an episode of The Walking Dead, has long been emblematic of the city's troubles. The motel is boarded up, surrounded by a cyclone fence and littered with weeds, garbage and graffiti. As Hank Sims reported way back in 2010, fed-up neighbors have had no success getting McKenny or the city to deal with the blight. McKenny has grand plans for the property, which he acquired in 2005, but thus far he's been unable to finance those plans.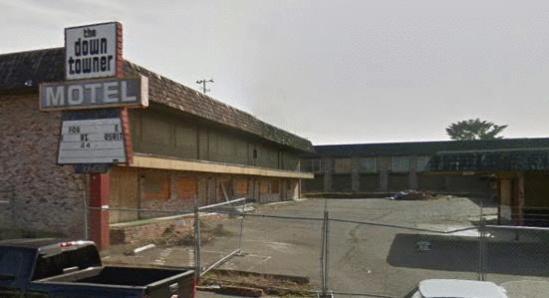 We called the city for an update and were told by Chief Building Official Brian Gerving that, back on November 27, city officials sent McKenny a letter that laid out "a firm timeline" for steps he needed to take toward fixing up the property. McKenny failed to meet that timeline, missing the deadline to submit a complete design review application, Gerving said. He has since done so, but only after the city sent a follow-up letter threatening to pursue "all legal remedies including civil and criminal," Gerving said. The application was received on Jan. 17.
Reached for comment, Bass sent the following message via text:
I have a call in to him to discuss his current status and to encourage him to put great effort into improving the current physical appearance in order to prevent the escalation of vandalism and graffiti while he is trying to move his project forward.
Gerving said the current Eureka City Council has a "renewed interest" in seeing the property developed. "We're trying as best we can to make something happen voluntarily with Mr. McKenny," he said.
The Planning Commission will resume its Round 2 review of the general plan update tomorrow night, and Bass says McKenny will participate on the commission.