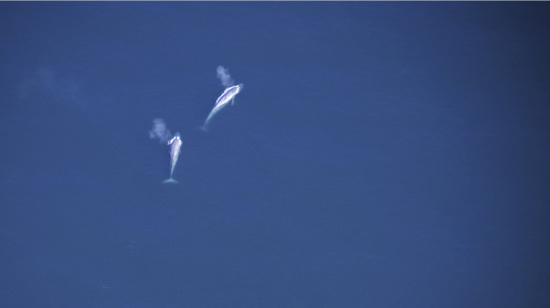 Photo by Terrence McNally/Arcata Photo Studios
Fans of marine mammals and sea life in general are dismayed at the U.S. Navy's plan to conduct extensive weapons testing and training exercises off a stretch of coast ranging from the top of Humboldt County up through Alaska. Over 100 whales and dolphins are anticipated to be killed in the testing, which utilizes sonar technology, electromagnetic devices and explosives, and thousands more permanently wounded from being exposed to an estimated 9.6 million instances of harm.
On today's Coastal Currents, Natural Resource Defense Council Senior Policy Analyst Michael Jasny discusses the Navy's plan, why people should oppose it and how they can do so. Tune in to KHUM 104.7 FM (or via the stream) for more information – then follow up by commenting on the environmental impact report here. Comments accepted through March 25.
Additionally, the Navy is holding a hearing on March 6 at 5 p.m. at the Red Lion Hotel, 1929 Fourth St., Eureka.
Further reading:
Jennifer Savage is the Northcoast Environmental Center's Coastal Programs Director and also serves as Surfrider Foundation's Humboldt Chapter chair.