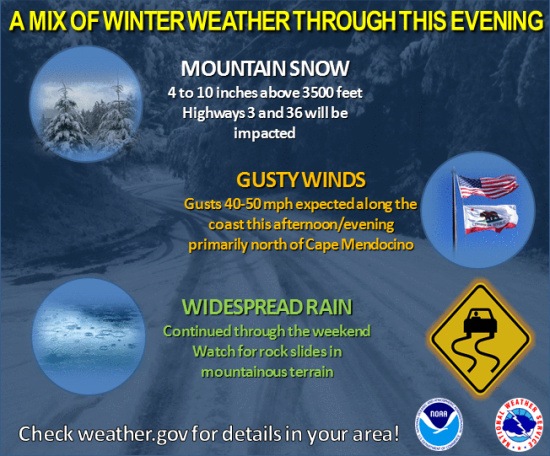 Graphic from the Facebook page of the US National Weather Service.
Be aware of hazardous road conditions today. The wet, windy weather has already sent rocks across the road various places between Piercy and Leggett, a tree fell on Rohnerville Road and there is localized ponding across the area.
The US National Weather Service is warning of high winds along the coast starting about 2 p.m. particularly north of Trinidad. Gusts could reach 50 mph near Crescent City. Highway 101 in the northern coastal areas is predicted to have difficult driving conditions especially for high profile vehicles. The Weather Service is warning of possible power outages and more downed trees. Their Facebook page reminds drivers to drive more slowly and turn on headlights.
They also warn of possible snow fall as low as 3000 feet. Hwy 36 is predicted to be impacted. And, of course, rain, glorious rain for the rest of the county.
Be careful out there.