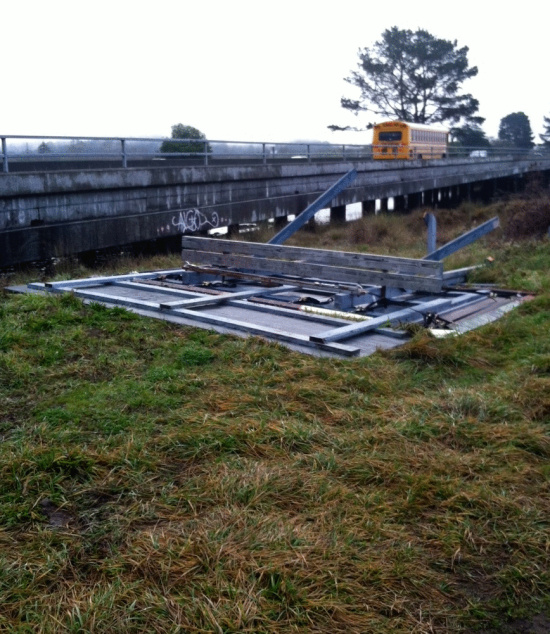 Looks like our local George Hayduke has struck again. Barely a week after a Bailey Mortgage billboard was felled on the 101 safety corridor, another plank has taken a face-plant, this one near the Gannon Slough bridge just south of Arcata. And the severed support beams bear the telltale signs of human mischief.
As with the Bailey Mortgage sign, this one, which bore an ad for Eureka's Living Styles furniture, might face challenges in getting rebuilt. There's some confusion about just whose land the sign sits on — U.S. Fish and Wildlife, the North Coast Railroad Authority or Caltrans. But according to Mark Andre, the City of Arcata's director of environmental services, the billboard appears to be within city limits, and the city's official policy calls for removing the signs.
"Rebuilding the billboard would take a permit," Andre said. Said permit would require permission from the property owner, and none of the three public agencies that own property along the corridor are likely to give it. Over the past 35 years, all three have tried various tactics to get the eyesores removed, but they've been thwarted by the lawyer-powered tenacity of CBS Outdoor, the company that owns most of the signs along the corridor.
Things may be different now, though. Permits for these signs have historically been issued as a matter of course by Caltrans' Sacramento headquarters. But in September, the Coastal Commission called for the removal of all billboards between Arcata and Eureka as a condition of approval for Caltrans' 101 safety corridor improvement project. [Addendum: A permit to rebuild the Living Styles sign would also be required from the City of Arcata.]
Humboldt Baykeeper's Jen Kalt notes that there may be even more red tape preventing billboard resurrection, including permitting requirements from the Humboldt Bay Harbor, Recreation and Conservation District and the California Coastal Commission. These agencies, along with gravity and a saw, may conspire to keep the billboards down.
UPDATE [5 p.m.]: The City of Arcata has posted notice on the fallen sign informing its owners that they'll need a building permit before performing any repairs, says Community Development Department Director Larry Oetker.