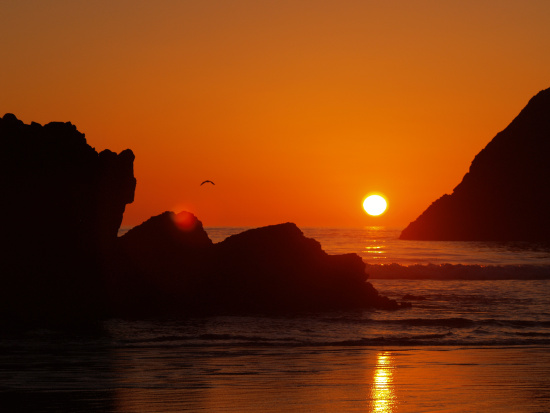 Random shot of Camel Rock by Carol Savage
"This is a primeval chorus, the sort of wilderness music which reigned over the earth millions of years ago…one of the most ancient sounds of the earth, it is a continuation of music from the past, and, no matter where I listen to a bog at night, strange feelings stir within me."
– Sigurd F. Olson, The Singing Wilderness
Doin' It After Dark
Given the occasional illegal activity, dangerous waves and general discouragement from parking anywhere after dark along the spit, you wouldn't want to necessarily wander willy-nilly through the dunes on any old night. If you know what you're doing, however, and especially given the clarity of the evening sky, exploring the dunes post-sunset can be magical. New sounds emerge under the moon's glow as the rest of the world falls to a faraway hush.
Friends of the Dunes offers a rare chance to experience this sensory enhancement.
Naturalist Teal Richards-Dimitrie can tell one frog song from another, recognize owl calls and identify other sounds of the night – and is willing to share her secrets with you via Nighttime Sounds in the Dune Forest, an after-dusk listening tour taking place on Wednesday, Jan. 29 from 6 to 7:30 p.m. at the Ma-le'l Dunes Unit of the Humboldt Bay National Wildlife Refuge.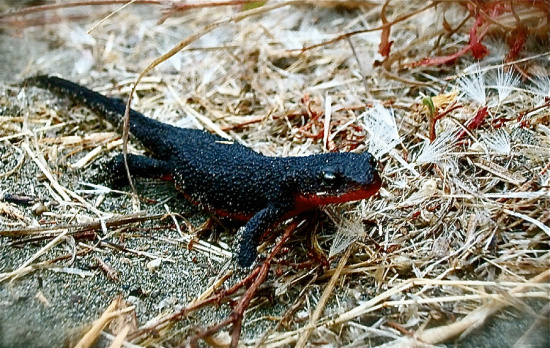 Dune critter (aka rough-skinned newt)
Richards-Dimitrie is a local naturalist currently employed as a fisheries biologist at Green Diamond Resource Company. Prior to moving to Humboldt in 2011, her research primarily focused on amphibians and reptiles. She explained how Friends of the Dunes has helped her develop a sense of place through their Bay to Dunes program, Coastal Naturalist Training and volunteering for special events like the Spooky Dune Tour, and Mudpuppies and Pollywogs. "When discussing potential Winter walks with Carol and Suzie of Friends of the Dunes, I immediately thought, 'Winter … NorthCoast … Frog Breeding! We should take folks out at night!'"
Richards-Dimitrie loves taking kids – and big kids – outside, "especially at night as it is often out of their comfort zone and many do not get to enjoy what wild places at night have to offer." On the walking tour, folks might get to hear not only the familiar rib-bit of the Pacific Chorus Frog but the more subdued growl/groan call of our local threatened species the Northern Red-legged Frog.
However, she continued, "the explosion of activity and sound I would love to share is highly tied to rain (especially in the ephemeral dune swales) which we have had so little of this winter. Therefore we will be using all of our senses to explore Ma'lel North at night and see what we hear, from the tiny-slimey to our feathered night time friends, and any other creature that wishes to make a peep."
Dress warmly, bring a flashlight and RSVP to 444-1397 – and tune into Coastal Currents today at noon for some more insight into the walking tour and other coastal issues. [Podcast link]
Something Fishy
Add this event to your calendar: Mad River Steelhead Days, taking place along the shores of the Mad River, beginning Saturday, Jan. 25 with a family-oriented Kick-off Day at the Blue Lake Business Park. The event features workshops for families who want to learn how to fish, led by local experts helping you rig your line like a pro. Arts and crafts take place throughout the day for the kids, and a variety show starring all things fishy in the evening hosted by the delightful clowns of Dell'Arte International. Full details at Mad River Alliance.
In Case You Missed It
Arcata's plastic bag ban goes into effect February 1
Humboldt County supes unanimously voted to direct the solid waste committee to compile ideas for a draft countywide plastic bag ban ordinance to be reviewed at a future meeting.
"Unseasonably warm weather" and long-interval swells to continue throughout the week.
Harbor District Commissioner Richard Marks reports on North Coast Railroad Authority meeting.
Pesticides and other chemicals found in blubber of Central Coast seals.
Also from the Central Coast, Underwater Parks Day celebrations – consider celebrating closer to home by birding or kayaking in Humboldt Bay.
Drake's Bay Oyster Company legal battles update.
West Coast radiation from Fukushima disaster poses no risk, experts say.
Thirteen real problems the ocean may not recover from.
Random photos of destruction made beautiful – I'm not sure how to feel about these. What do you think?
Jennifer Savage chairs Surfrider Foundation's Humboldt Chapter and serves as Coastal Programs Director for the Northcoast Environmental Center. A recent anonymous commenter referred to her as an "ocean bimbo," which made her laugh for days. You can email her directly at jsavage@yournec.org.