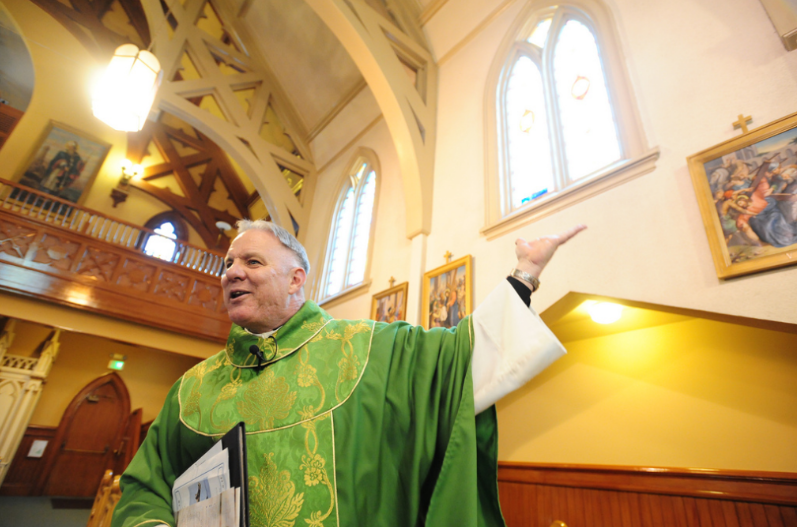 Photo by Mark McKenna
[Editor's note: With the arrest this afternoon of suspect Gary Lee Bullock, the circus surrounding the death of St. Bernard's father Eric Freed can hopefully fade out for the moment and the community can get on with mourning and remembering a beloved figure. It was in that spirit that I reached out to LoCO Friend and a former HSU religious studies student Austin Roberts who has contributed the following reflection on Freed. -AG]
# # #
After learning of Father Eric Freed's tragic death yesterday, I have been reflecting on my friendship with him that developed over the last few years. What began as a student-teacher relationship between us at Humboldt State University grew into a rewarding friendship. While many Humboldt County residents had the opportunity to meet Eric over the years — and certainly others knew him better than I did — it is my hope that my reflections here will provide both a snapshot of who Father Eric was for those who did not know him and a personal tribute to this great professor, pastor, scholar and friend.
I first met Father Eric in 2009 during my last year at HSU in the religious studies department when he visited my class as a guest speaker on meditation and mysticism. He was an impressive historian of religion, especially in relation to his own Christian tradition, as well as a talented public speaker. As a Christian myself with similar academic interests, I immediately felt a connection with him as he spoke to us about medieval mystics like Meister Eckhart and Julian of Norwich. While there were few other Christians in our class – and many who were initially suspicious of this Catholic professor and minister – Eric's presence was ultimately welcomed by everyone because of his authenticity, intelligence, and openness to other perspective besides his own. Students genuinely loved him. While he spoke of his commitment to his own tradition of Catholic Christianity (though not uncritically), he made it clear that he was not interested in converting anyone. Instead, he preferred to engage in deep conversations about history and philosophy and to befriend students with different perspectives, including those who identified as atheist, Buddhist, or spiritual but not religious. He welcomed students wherever they were at, not only as their teacher but also as an enthusiastic learner who humbly recognized that his students also had something to teach him.
After Eric's lecture, I made a point to track him down on campus after class. We met at the Newman Center where he welcomed me in to chat for a while. I told him how much I appreciated his lecture and that it inspired me to write my final paper on Christian mysticism. He was a wealth of knowledge, seemingly knowing something about almost everything, as well as a generous conversation partner who never hesitated to engage a student's concerns for long periods of time. I learned that he was not only a historian of religion but also a multilingual New Testament scholar. We debated about who the leading scholars of our time were and traded notes about our favorite books on the historical Jesus. While he was a Catholic and I'm a Protestant, our progressive perspectives on both politics and theology provided a lot of common ground. We both confessed our shared appreciation for Noam Chomsky, the biblical scholar John Dominic Crossan, and the philosopher Hans-Georg Gadamer. Before leaving that evening, we talked about my applications for graduate school to study philosophy of religion and he encouraged me to look into Claremont School of Theology where I eventually completed my master's degree in 2012.
Clearly, that day in 2009 with Eric had a great impact on me. Our friendship developed over time as I later took a seminar on peace and justice issues with him and continued to visit him at the Newman Center for discussions. With Eric, I found an encouraging and knowledgeable friend and teacher who shared my concerns to build bridges between religious communities and the academic world. We talked about our struggles in this task and hopes for a Christianity that moved beyond the exclusivist, hypocritical, and socially irresponsible versions of our traditions. Watching Eric struggle with integrity against these problems in his tradition empowered me to attempt the same in mine. While I never had the opportunity to speak with Eric about his opinion of Pope Francis, I am sure that he was encouraged by some of his efforts to focus on issues of poverty, environmental responsibility, religious inclusivism and peacemaking. All of this goes to say that Father Eric was anything but a narrow-minded or judgmental Christian. He sought to balance his Catholic commitments with a rare intellectual honesty and radical hospitality to the Stranger — whoever they were.
Over the last year or so, Eric had a few of his academic friends over to his home for regular discussions about religion and philosophy that often went on for hours. A true man of hospitality, he always provided wine, cheese and even cooked dinner for us. The four or five participants in these symposiums (including HSU religion and philosophy professors) were all interested in the critical study of Christianity and we learned a great deal from one another. Father Eric was often at the center of our discussions, never shying away from strongly stating his opinions and passionately debating with members of the group. He had a brilliant mind and energetic conversation style. I only wish we could have met more frequently. I am so grateful for his willingness to host these events that challenged my thinking and for his encouragement in my ongoing academic pursuits that have led me to doctoral work in some of the same areas that Father Eric was passionate about.
As an HSU alumnus, I certainly recognize that Eric's death is a tremendous loss to the religious studies community as well as to his congregation and other Humboldt County locals. Along with so many others who knew him well, I am truly stunned at this tragedy and hope for justice in this situation. With Father Eric's passing, we have lost a great man, someone truly special who positively influenced and genuinely cared for those around him. He will not soon be forgotten.
-Austin Roberts
# # #
[Editor's note: Through this entire ordeal, photographer and LoCO contributor Mark McKenna has gone above and beyond in his commitment of documenting our region. Below and above, McKenna has provided some images to LoCO taken at the 125th Anniversary Mass at St. Bernard's Church in Eureka back in 2011. Click the images to enlarge. -AG]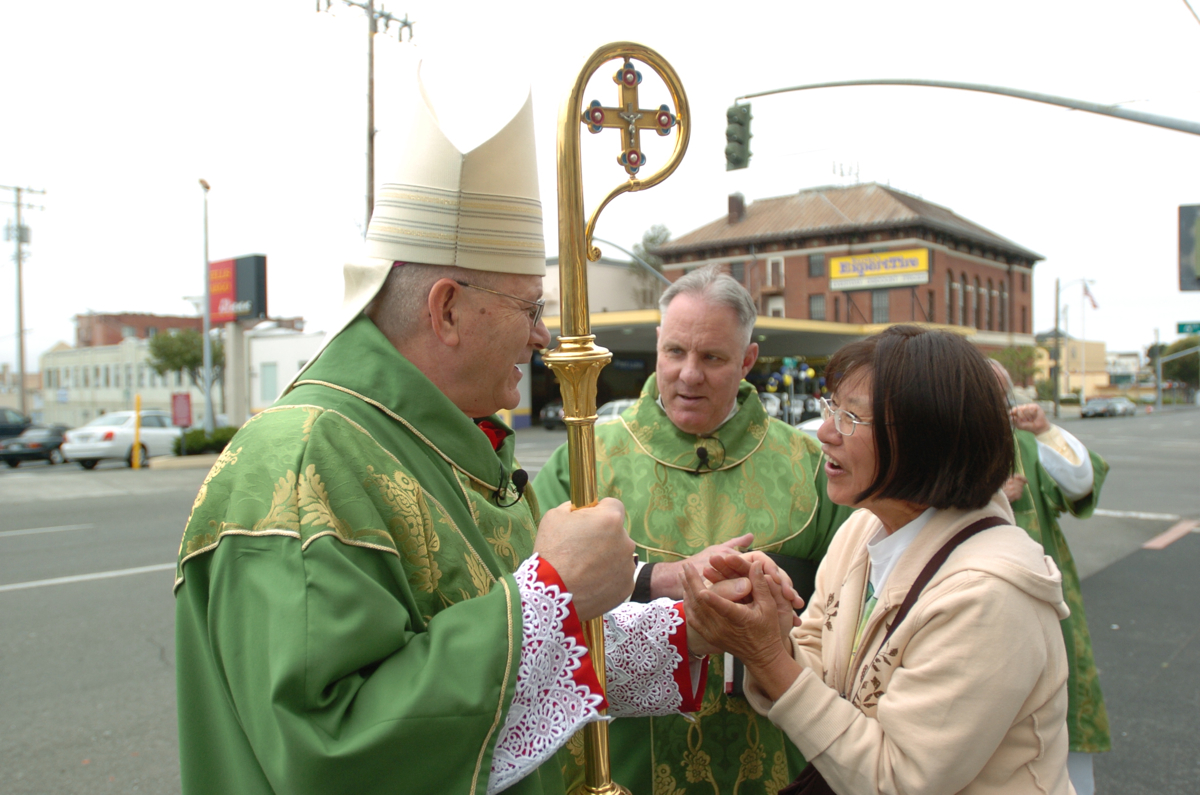 Father Eric Freed (center) introduces Betty Chinn to Bishop Robert F. Vasa following the 125th Anniversary Mass at St. Bernard's Church