She would deny that 'nicest' part. Because she's nice.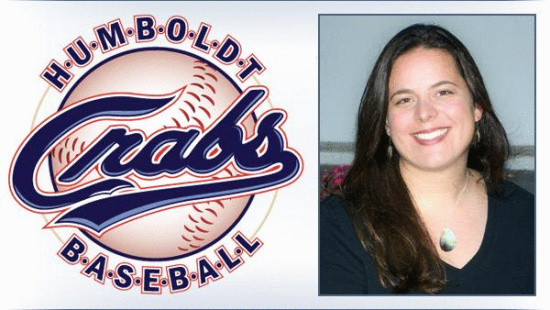 The 2014 Crabs season is shaping up nicely, partly because the Crabbies have a new president. After Matt Filar stepped down last year, VP Vikki Rossi was tapped.
Officially confirmed by the board back in November, Rossi is the first female board president and the youngest ever to be appointed to that esteemed position.
More importantly, she is super organized, positive, and always down for the Crabs. As a fan, she rarely misses a game. You'd know her if you saw her, sitting on a blue blanket along the first base line, banging sticks (claves) together and occasionally calming hecklers who get a little too personal.
Hang out with a constellation of off-season Crabs stars at the Arcata Chamber's February mixer on Feb. 6th starting at 5:30 p.m., at 1 Harpst Street, Arcata inside the Great Hall on the HSU campus. For more information, email arcata@arcatachamber.com.
Thanks Matt, and congratulations, Vikki. You'll take the team to new heights. -MD
From the Crabs' site:
ARCATA — The Humboldt Crabs, which began in 1945, are the longest continuously-operated summer collegiate baseball program in the United States. Vikki Rossi of McKinleyville was elected the Crabs first female board president on Saturday, November 2, 2013 at the annual board retreat. Rossi is an HSU alumna and works at Sun Valley Floral Farms as a credit and collections manager. She is also the youngest board president in the organization's history.

Rossi was recruited in August of 2011 by her good friend Stephanie Lane who stepped down from the board to pursue her new position as the Assistant Athletic Director at HSU. Rossi and Lane — both longtime Crabs fans — are known to sit on the first base line. Rossi is perhaps most widely known for cheering on the Crabs with her wooden claves.

Rossi is not only a Crabs fan, she also grew up in a baseball-loving family in the Bay Area. As a kid, the Rossi family spent a lot of time at both S.F. Giants and Oakland Athletics games.

Rossi was reluctant to join the board of directors at first, only because she was concerned she'd miss watching the games. "I denied the opportunity for an entire year. Upon the second request, I had so much love for Crabs baseball, that there was just no way I could turn down such an enormous opportunity," Rossi said. "In my time volunteering on the board, I have witnessed teamwork like never before," she added.

Rossi's main assignments for the board are to head up the Crabs Alumni and Hall of Fame committees. Rossi is in charge of a large Crabs alumni database and her main focus is to find and make contact with anyone who has ever worn a Crabs uniform. She also instituted a lifetime alumni season pass for all Crabs players. Rossi's alumni weekend celebration will be held on the Fourth of July weekend in 2014.

"The Crabs have given me a reason to memorize baseball stats again and I feel very fortunate to be a part of such a great organization. Humboldt County is my home, but baseball in Humboldt County is where my heart is," Rossi said.

Passion is the word most commonly used by the 13 community members who make up the 2014 Humboldt Crabs Board of Directors when describing why they serve. What other reason would a group of individuals who have no real connection to one another — other than love of baseball — voluntarily give up hundreds of hours of their time, year-round for no pay? The board of directors consider themselves to just be a group of high-ranking volunteers who ultimately work for the community of Crabs fans.

Upon seeing a board member in line at the concession stand at the Arcata ballpark, fans often ask, "Do you have to stand in line like all of us?" The answer is yes, there's no special treatment for board members. Board members buy their Crabs sweatshirts, hot dogs and beer just like everybody else. The funds that are raised each summer at the ballpark go into a savings account that supports the following summer's baseball season and team.

As the Crabs enter their 70th continuous season of baseball, it is a good time to review how the Crabs actually function. The team belongs to and is literally owned by the community. The board recognizes they are merely stewards of this historic organization. The board, in turn, takes its responsibility very seriously to maintain and advance the traditions and history of the program. Without the annual financial support of the community, the Crabs would literally cease to exist.

The Crabs program is reviewed annually at a full-day retreat each November. At the retreat, officers are elected and each board member is assigned and responsible for one or more major tasks. Board meetings are held twice a month and year-round. The board of directors prides itself as being a working board, i.e., each member works continuously on projects throughout the year to ensure the survival of the program.