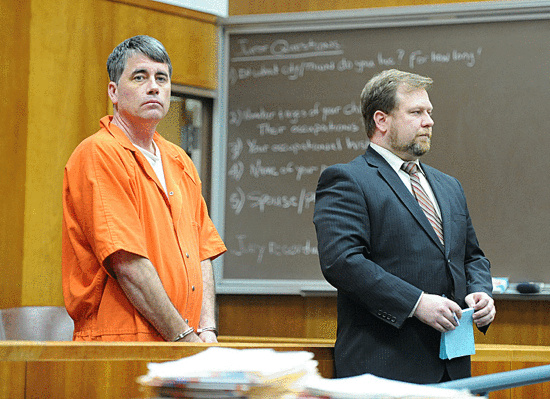 (Above: Gary Lee Bullock and attorney Kaleb Cockrum. Photos by Mark McKenna.)
Standing in handcuffs and an orange jumpsuit, a stoic Gary Lee Bullock pleaded "not guilty" this afternoon to the murder of Father Eric Freed, the beloved priest at Eureka's St. Bernard Catholic Parish who was found dead and apparently beaten inside the parish rectory on New Year's Day.
With baggy eyes and a downturned mouth, Bullock showed no emotion as Judge John T. Feeney read the list of charges, which includes first degree murder, vehicle theft and attempted arson. The murder charge includes two special allegations — first, that it was committed in commission of first-degree burglary and, second, that the murder was intentional and involved torture.
Bullock was represented by Steve Cochran Kaleb Cockrum from Humboldt County's conflict counsel office, who announced that his client would plead not guilty to all charges. Judge Feeney set bail at $1.2 million and set the next court date for Jan. 15.