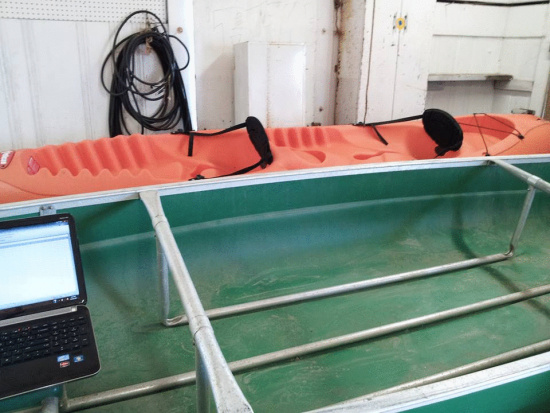 UPDATE: On July 4 the canoe and the engine were found and returned to the Sea Scouts.
From the Humboldt County Sheriff's Office:
On 06-15-2014, at approximately 8:30 p.m., the Humboldt County Sheriff's was notified of a possible burglary in a commercial building at the End of Depot Road, Fields Landing. Deputies responded and were able to determine the building had been forcibly entered, but were unable to determine what if anything was stolen. The suspect(s) had entered through a window after cutting away metal bars. The Sheriff's Office learned the building was owned by Humboldt Bay Harbor District, but the contents inside belonged to the Sea Scouts, who are affiliated with the Boy Scouts. A representative of the Sea Scouts was notified what had occurred and agreed to secure the building that evening and determine what was missing.

On 06-16-2014, at approximately 9:00 a.m. the representative contacted the Sheriff's Office and reported a green, two person, Canoe, CF9437HM , an orange, two person, Kayak with sit on top benches, two black Pelican brand paddles, a 15 Horse Power Motor and a large green inflatable raft were stolen. The representative said the items were last in the building approximately two weeks ago. It appeared the items were removed by a roll up door after the suspects gained entry though the window.

The total estimated loss is estimated to be at least $1,500.00.

Anyone with information for the Sheriffs Office regarding this case or related criminal activity is encouraged to call the Sheriffs Office at 707-445-7251 or the Sheriffs Office Crime Tip line at 707-268-2539.
From the Humboldt Bay Sea Scouts:
At approximately 8:30 pm Sunday June 15th 2014 the Humboldt County Sheriff's Office contacted Humboldt Bay Sea Scout's Ship Committee Chair Richard Hendry to inform him of a possible break in at the Humboldt Bay Sea Scout building located at the end of Depot Rd in Fields Landing CA. Mr. Hendry contacted Sea Scout Skipper Bryan Enloe to inform him and request that Mr. Enloe check on the building.

Mr. Enloe was able to arrive at the building by 9:15 pm and was accompanied by the ships First Mate Joseph Mckinzie. Upon arrival Mr. Enloe and Mr. Mckinzie found the barn doors on the west side of the building open. Entering the building the two found many items to have been gone through and many items missing. After looking around it was discovered that someone had cut a section of metal screen off of the west window and busted out boards to climb through. Once inside the individual was able to open the barn doors and empty desired contents. At this time there are no suspects or leads.

The owners of the building the Humboldt Bay Harbor and Conservation District have been notified by Mr. Enloe and the HBHCD agreed to send a worker out to secure the building. The HBHCD also stated there may be some useable surveillance footage that they will check. The items easily able to identify as missing are a green flat back Colman canoe, 2 person sit on top orange kayak, large green inflatable raft, 15 horse power outboard motor, and 2 pelican ores. Mr. Enloe has contacted local media outlets Times Standard, News Channel 3, Lost Coast Outpost, Power 96.3, and Big Red 92.3. Times standard responded and interviewed Mr. Enloe over the phone. News channel 3 also responded and interviewed Mr. Enloe on the scene.

If anyone has any information they are encouraged to contact the Humboldt County Sheriff (707) 445-7251 Case # 201402743 The Humboldt Bay Sea Scout Skipper Bryan Enloe can be reached through email: scoutship1@yahoo.com, Facebook:www.facebook.com/scoutship1, or phone: (707) 496-7878