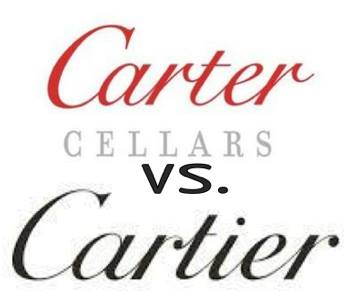 Cartier, the mega-swank French jeweler and watchmaker, has filed a trademark infringement lawsuit against local vintner/restaurateur Mark Carter, owner of Restaurant 301 and the Carter House Inn.
The $4 billion luxury brand is arguing that the label for Carter's modest Napa Valley winery looks too similar to its own logo. (Compare the logos above for yourself.)
In the suit, Cartier argues that wine shoppers might get mixed up: "Defendants use of their confusingly similar Carter script mark is likely to confuse consumers into mistakenly believing that defendants' wine products are made, provided, authorized, endorsed or sponsored by Cartier."
Wine industry blogs are calling it a battle of "Goliath versus David," or "Bambi versus Godzilla."
A judge in San Jose recently set a trial date for July 2015, but Carter tells Wine-Searcher that he can't afford to fight Cartier in court.
"It's not a fun fight to be in because they can just roll right over you," Carter told the industry blog. "They can outlast me on anything I do."
On the other hand, he told Wine Spectator that the logos are different and he doesn't plan to change a thing.
Carter's winery and restaurant may be relatively small, but they've managed to win some world-class accolades over the years. Industry behemoth Wine Spectator bestowed its coveted Grand Award on Restaurant 301 back in 1998, thanks largely to a wine list the size of a phonebook, and two years ago the esteemed Robert Parker, the world's most influential wine critic, gave the 2002 Carter Cellars Cabernet a perfect score of 100.
That latter honor, along with the vintage's subsequent appearance on the cover of the November 2012 issue of Wine Spectator, may have put Carter's elegantly scripted name back on Cartier's radar. The jeweler had first contacted Carter a decade ago. He recalled the conversation to Wine-Searcher:
"I said, 'I can't see how there could be confusion. You have an 'i' in your name, I do not. This is my name.' They said, 'The script looks similar.' I said, 'They may look similar, but it's not the same.' They said, 'The color looks similar.' I said, 'But it's not the same. I sell wine, you sell jewelry. I'm small, I make 500 cases of wine a year. I make high-end wine that sells for $125 a bottle. I don't think there's going to be any confusion at all.' The guy let me go, and never called back for years and years."
Until last year, when the lawyers got involved.
Does the case have merit? Or are these French fashionistas guilty of bullying a small-scale American who dares to trespass on their proud national terroir?
We turned to friend and former colleague Lynn Jones, owner of Just My Type Letterpress and Illustration, for her expertise in script design. And while she was unaware that a lawsuit had been filed, Jones said she long ago noticed the similarity between the two labels.
"Maybe it wasn't intentional, but the look of 'Carter' is certainly playing off the prestige that Cartier has," Jones said. "And it has taken them [Cartier] many years to build that reputation."
Still, Jones acknowledged that the scripts aren't identical. The lower-case "r," for example: Cartier's ends with a "ball terminal" while Carter's continues to swoop. (See? She knows her stuff.) And the "t"s: Cartier's t crossbar is only on the right side of the ascender while Carter's goes all the way through.
"My guess is that Cartier's [script] was carefully hand-lettered x number of years ago, and Carter's was chosen from a selection of nice computer-generated scripts," Jones theorized.
Carter has complained in court that, were he to change his logo, he might lose consumer recognition and the prestige of his previous accolades. "Most people would give their first-born to get 100 points," Carter told Wine-Searcher.
But Jones thinks he should have thought of that sooner. His label was trademarked in 2001, three years before he was first contacted by Cartier and a dozen years before the company filed suit.
"As a designer," Jones said, "one should take the time to do the research and make sure you're not creating something that looks too much like anything else that's out there — especially huge, well-known brands. I feel sorry for Carter that he has to change his identity after gaining popularity, but it sounds like he had some warning."
We called Restaurant 301 to see if Carter wanted to comment, but we were told that he's currently in Kentucky, brewing bourbon.