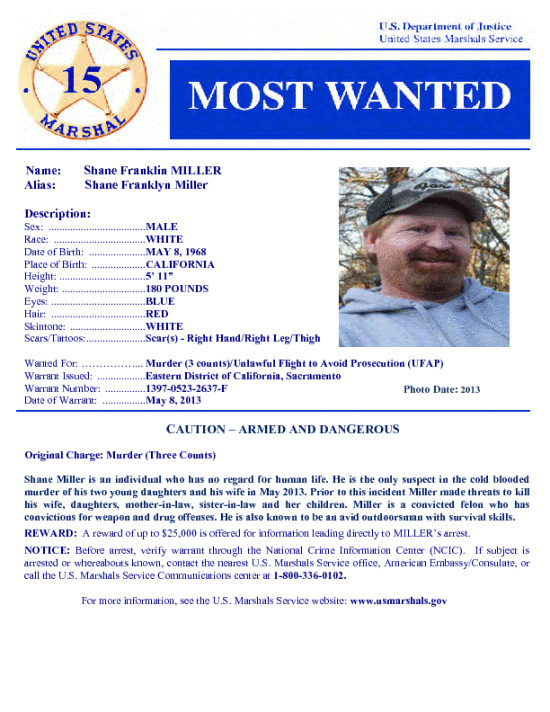 Yesterday, and again over the next few days, a film crew has been shooting scenes in the Petrolia area. A news show about Shane Miller, the fugitive wanted for the murder of his wife and two young daughters early last May, is being put together. Miller disappeared in the remote coastal area the morning after the killing of his family and was the subject of a massive manhunt. Last July Miller was placed on the US Marshal's Most Wanted list. There is a $25,000 reward for information leading to his arrest.
According to Lt. Wayne Hanson of the Humboldt County Sheriff's office, the film crew belongs to "a news agency from outside this state that is doing a story about the Shane Miller manhunt. We have one of our detectives, Todd Fulton, in the area talking to that agency."
Hanson said there was no new information about Miller but that the agency wanted to make a national hour-long program about the fugitive. The show will bring attention to the case, he explained. "I think it was warranted." The hope is that more attention brought to the case might help catch Miller.
Not everyone, however, is delighted. Petrolia resident Mary Sue Day was not happy at the unexplained intrusion in her small town. She had no idea what was going on when, yesterday before noon, she became aware of a large pickup driving around and around — "circling the square"
"The person," the 74-year-old woman said, "didn't have respect for where he was driving." When the driver parked, Day spoke to him. "He came up and kind of parked cross-ways in the street. I went up and talked to him, which was a little bit bold for me."
She explained she had been worried about safety. "Don't drive like that.," she said. "There is a little girl in our neighborhood that drives around in her bicycle."
The man told her that they were filming a scene about Shane Miller. Day then approached the film crew. "They told me they had to take a lot of different shots of the truck because they only have one camera."
Day was not entirely satisfied with the explanation. "I'm 74. I've been here for 25 years. We don't need any movies. Sure we've got to get the alleged bad guy but I don't need the drama." Day wondered if the crew had permits.
Cassandra Hesseltine, Film Commissioner for Humboldt County, confirmed that the agency had filled out all "the proper paperwork."
According to Hanson, the crew will be in the area again on Tuesday and Wednesday. Day, a 25-year resident, is unlikely to be happy about this. As she explained, "We have enough irresponsible drivers in this neighborhood. We don't need anyone else coming through."
PREVIOUSLY: