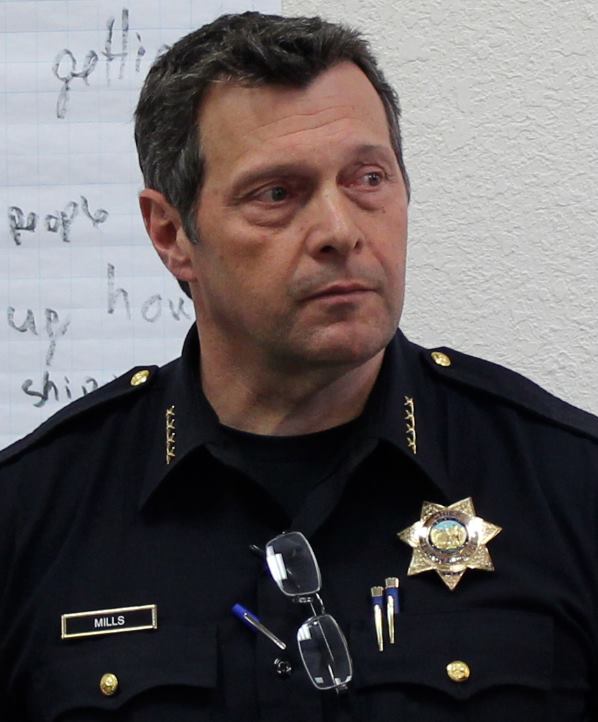 It's been an eventful six months for Eureka Police Chief Andrew Mills. When he took the oath of office last November he replaced Interim Chief Murl Harpham, the figurehead of the old guard, a man who'd spent 56 years with a department that, in the last decade at least, has seen more than its share of controversy, scandal and turmoil.
On the first day of the new year, Mills found himself giving a press conference about a grisly murder that made international headlines. Three months later came a double homicide. And Eureka continues to suffer from such intractable problems as homelessness, meth abuse and an escalating property crime rate.
Yesterday evening, Mills sat down with the Humboldt County Human Rights Commission to talk about some of those problems, and over the course of a friendly, nearly hour-long conversation Mills dropped some great quotes.
We've picked our 10 favorites (and added some context, since a few of these would sound pretty batshit otherwise). Here they are, in David Letterman-style descending order:
10. "That's how you destroy a society."
Mills feels that there's an underlying culture of lawlessness in this remote corner of California. Criminals are defiant, even when they get caught. Here's Mills' preamble to the quote: "The average crook [in Humboldt] is kind of like, 'Well, you know what? We don't have to abide by the law. If I want to drink a beer while I'm driving, I'll drink a beer while I'm driving. Or if I want to smoke a bowl, I'll smoke a bowl.'"
9. "Prison winds up being the Harvard of criminals."
Last week Mills toured "the SHU," or secure housing unit (aka solitary confinement), at Pelican Bay State Prison. Rather than sending criminals to crime school, he said, we should work with community partners to find alternatives.
8. "We're probably wasting five officers a year."
When someone reports a burglary, a pair of officers get dispatched to the house where they write up some notes. Later, they drive back to the station to type up a report, which then gets submitted to a sergeant for approval and then sent to "two ladies over in records division who fat-finger it into our records system," Mills said. He'd rather give the officers iPads or the like, and he's working on ways to streamline the entire system.
7. "My way of trying to handle this stuff is to actually talk to people."
In regards to Occupy-style protests. Eureka PD was criticized for taking an adversarial approach to the big, messy Occupy Wall Street protest camp that sprouted at the county courthouse back in 2011.
6. "You know the most frequent call we answer on a daily basis? 911 cell phones. People put their cell phones in their back pocket and dial 911."
Butt-dialing the cops. And they respond to these calls. That's gotta be embarrassing.
5. "Transparency adds legitimacy to the police."
Nighttime burglaries are a problem in Eureka (in case you hadn't heard). When Mills got here, he asked his officers for a breakdown of the data: What time of night is most common? What neighborhood gets hit most? What are the week-to-week numbers? How many are residential versus shoplifting versus smash and grab, etc.? His officers couldn't tell him any of that information. "They just didn't have it," Mills said, adding that he's not going to operate that way.
4. "Now, believe me, I like putting people in jail."
As tempting as it is to let that one stand alone, here's the context: After acknowledging this rarely acknowledged cop pleasure (he also likes jumping over fences and the thrill of the chase), Mills said there are other ways to solve problems.
3. "It's just a bunch of files shoved in a drawer."
That was Mills' description of the Eureka Police Department's internal affairs investigation program when he arrived. "I didn't like what I saw," he said. The files have since been put into a database so complaints about officers can be searched by officer, time or topic (how many claims of racism, for example, or excessive force or sexism?) and trends can be identified.
2. "Let's face it: In Humboldt County going to jail is a joke."
Voicing his frustration about criminals getting the catch-and-release treatment due to the lack of available cells for repeat offenders.
1. "Let's not kid ourselves. If you want somebody to design an aircraft to go to the stars? Don't get some cops to do it."
Mills is collaborating with the Humboldt County Department of Health and Human Services Director Phillip Crandall in the hopes of getting more mental health professionals to accompany officers on the streets to diagnose folks and get them to the proper place. So we assumed the aircraft here was a metaphor (although, come to think of it, that's good literal advice, too).