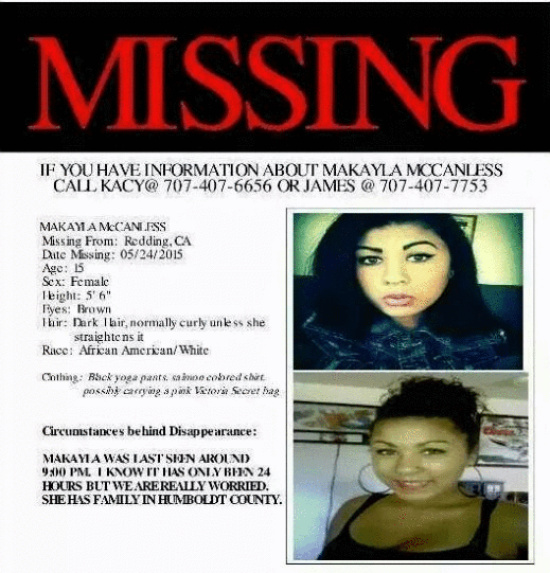 UPDATE 1:14 p.m.: Makayla McCanless showed up to 4th period at her school today. Her aunt, Nickie Childre, believes the publicity convinced the girl that she needed to contact people.
We're glad her family knows where she is.
###
Original post: Fifteen-year-old, Makayla McCanless ran away from her home in Redding on Saturday around 9 p.m. but may be in Humboldt County. The Shasta County Sheriff's Office has been contacted about her disappearance. Her family suggests that she may have made her way to our county. Friday and early Saturday she was visiting with family and friends in the Rio Dell/Scotia area. She may have returned.
According to her aunt, Nickie Childre, Makayla went missing after an argument. "She got mad and ran away." Childre said. The girl was last seen wearing black yoga pants and a salmon colored shirt. She is not expected to have much money and she has turned off her cell phone so she can't be tracked.
People are looking in the Redding area, Childre said but the girl could have made it back to the Humboldt County area. She asks everyone to be on the alert for the 15 year old particularly in the Rio Dell/Scotia area. Contact the phone numbers on the poster if you have any information about where the girl could be or contact the Shasta County Sheriff's Office at 530-245-6025.