Last Friday night I hit up the 1st Annual Humboldt High Grade Harvest Gala at the Mateel Community Center in Redway. It was kind of fancy. I saw a limo at the entrance to the event (limos are rare in Redway), and when I entered the Chalice Palace VIP lounge I was presented with a longstem red rose, like Humboldt royalty.
The event was produced by Satori Movement and More Love Productions. It ran on Friday and Saturday from noon till late, and it came on the heels of the Mateel's Hempfest. Friday was rainy and sort of cold, a good Humboldt night for a harvest party. The gist of the HHGH Gala from the Mateel's website:
"…a premier gathering to celebrate the harvest season with two days of edutainment bringing top tier music, world renowned speakers, vendors and great vibes to the community."
Edutainment, music, vendors, good vibes and weed, lots of weed. But the Gala wasn't a cannabis competition, it was a weed party. Admission was $55 for a one-day pass, $100 for a two-day pass, $215 for a two-day "215 VIP" pass or an additional $115 to upgrade a one-day pass to VIP. VIP meant Chalice Palace access and a goodie bag.
The admission price made me skeptical, I thought it was high. But the event was well-attended, at least on Friday night. I got there just after six, in time for the second half of "The Current Dispensary Landscape and What Purchasers Want From Patients" panel in the edutainment tent.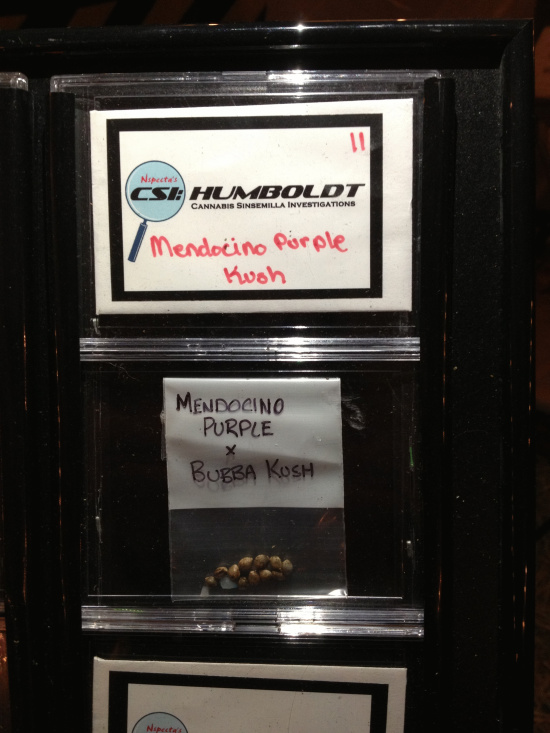 The panel was composed of four men, including Kevin Jodrey from Garberville's medical marijuana dispensary Wonderland Nursery. There was gender imbalance. A quick tally of the seated audience at this panel yielded a 13:6 ratio of men to women. Other panels featured women, just not this one.
The audience was engaged and asking thoughtful questions. The panelists discussed transportation tips, like how official-looking paperwork can go a long way in a law enforcement mixup when you're carrying pounds. They discussed self-titration for dosing because cannabis is too illegal for science. They discussed a number of specific topics.
Other panel discussions covered staying organic, light deprivation techniques and soil building versus buying. Saturday's panel topics included Emerald Triangle tourism, bookkeeping and accounting for growers and handling police encounters.
The VIP lounge, or Chalice Palace, was accessible to Gala attendees with proper wristband creds — important people and 215 recommendation holders that paid the premium. It was an exclusive tent guarded by security guards with roses. Inside, hay was strewn on the ground producing a cozy, barn-like effect.
There were two dab stations, couches, heat lamps, a wine table and various medical marijuana providers. CSI Humboldt (Cannabis Sinsemilla Investigations) provided me with a bit of medicinal Obama Kush (Mendocino Purple X Bubba Kush) and a bag of feminized Bubba's Girl seeds (Girl Scout Cookies X Bubba Kush).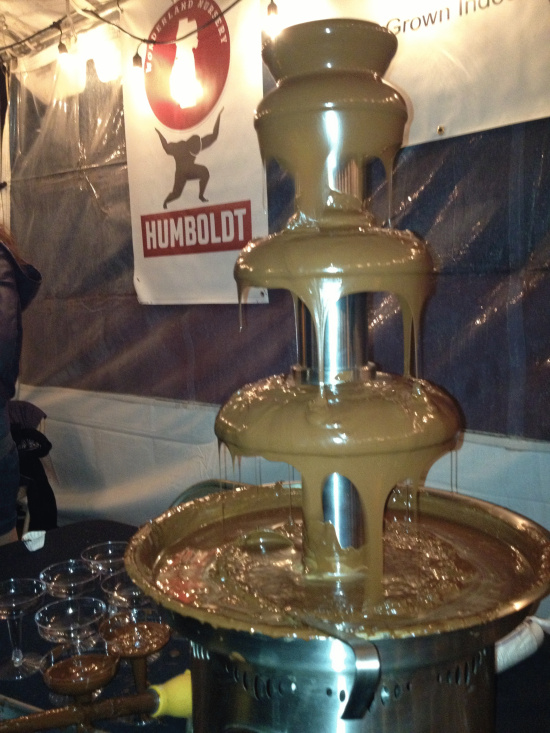 People dabbed Pineapple, OG, Blue Dream and Ghost OG x Sour Diesel by SoHum Concentrates. Edibles and bud samples were scattered about. But the crown jewel of the Chalice Palace was a monstrous gurgling fountain of chocolate mousse spiked with hash. The display had a strong chocolate aroma. People scooped the chocolate hash mousse into stemware or little paper cups and ate it. It was gnar.
The Mateel hall itself was crowded and steamy. Lots of people huddled outside on the back patio area too, avoiding the rain, smoking out. Beer was on sale upstairs and a fire burned outside in an artful metal trashcan. I met people from Lake County and the Bay Area, people from Arcata and Willow Creek. I saw lots of dreadlocks, patchwork and LRG hoodies, head scarves, flat-brimmed hats. It was a big party.
Friday's music headliners in the hall included Alborosie, Ikronik, Jah9 (I liked her) and Bobby Hustle. Saturday's entertainment was Dialated Peoples and A Plus, plus more. Many men. The Mateel's food was bomb. Toph's House in Benbow had an after party both nights. There was a lot going on.
\I'd say the Gala was a great success, at least on Friday night. And it was a good Emerald Cup warm up.