UPDATE, 3:04 p.m.: Additional photos supplied by the US Coast Guard here.
# # #
UPDATE, 2:29 p.m.: Humboldt County Sheriff's Office press release:
On 11-26-2014 at about 10:45 am a Humboldt Deputy Sheriff conducted a vehicle investigation on a vehicle parked in the 1600 block of Scenic Drive, Trinidad. The vehicle was occupied by a subject identified as Neal W. Hagerty, age 51. The Deputy learned that Hagerty had a misdemeanor petty theft warrant issued for his arrest. Bail on the warrant was set at $5,000.

When the Deputy advised Hagerty of the warrant, Hagerty took off running northbound on Scenic Drive in an attempt to avoid arrest. The Deputy pursued Hagerty until he saw Hagerty run off the road and down a steep embankment. Hagerty ended up falling in the process which resulted in a significant injury to his right foot.

The Coast Guard Helicopter was dispatched to the scene and Hagerty was air lifted to Mad River Community Hospital. Hagerty was treated for an open fracture/dislocation of his right ankle. It was further determined that Hagerty would need to be transported to an out of the area hospital for additional treatment of his injury.

Hagerty was issued a notice to appear on his warrant and released from custody at the hospital.
# # #
UPDATE 12:55 p.m.: Ted Pease, Trinidad resident and former journalism professor, shared these fantastic photos below of today's rescue of a suspect by the US Coast Guard. Pease explained what he saw on his Facebook page:
Humboldt County deputies chased a suspect on and off of Scenic Drive south of Trinidad this morning. The suspect ran straight off the bluff south of Baker Beach, a deputy said, landing on the rocks below. Coast Guard choppers came to rescue the suspect, who deputies said had a broken leg from the fall.
Pease said that multiple agencies responded—Cal Fire, Arcata Ambulance, and Trinidad Rescue as well as the Coast Guard and the Humboldt County Sheriff's Office.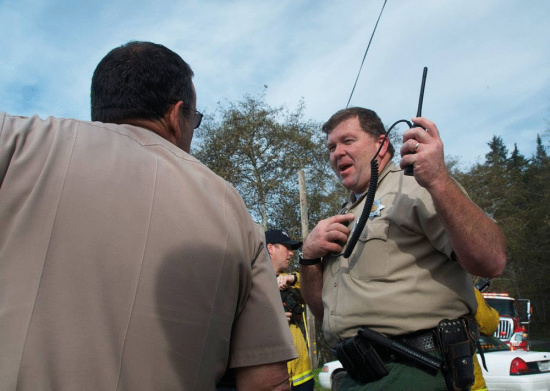 Deputies David Diemer (left) and Charles Lamb consult as the Coast Guard helicopter approaches.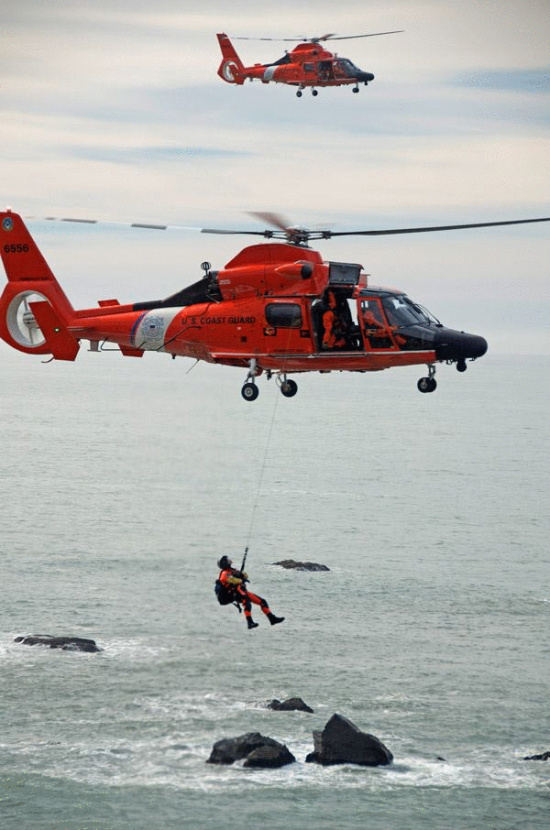 Coast Guard helicopter retrieves guardsman after rescue of suspect who fell off Scenic Drive in Trinidad, chased on foot by Humboldt County deputy. Support chopper hovers nearby.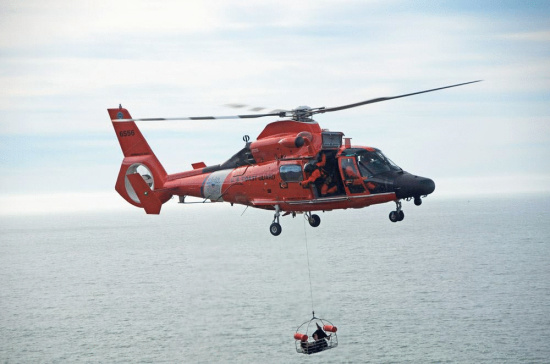 Suspect being raised in the basket.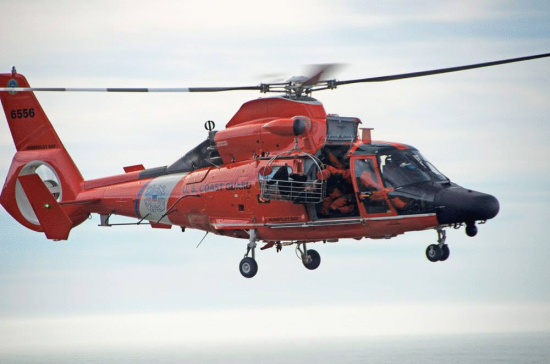 Suspect is loaded into chopper. Charges unknown.
UPDATE 12:10 p.m.: A spokesperson with the United States Coast Guard said that they were asked by the Humboldt County Sheriff's Office to help recover an individual who "went down a cliff" at Baker's Beach in the Trinidad area.
We have calls into the Sheriff's Office now requesting more information.
# # #
Original post: According to scanner traffic, a person has been rescued by the United States Coast Guard near Trinidad. The person, being called a "suspect," reportedly has a "broken foot or a broken lower leg." A basket has been used to pick up the individual. An ambulance is taking the individual to the Mad River Hospital. Law enforcement has been requested to meet emergency personnel at the hospital for a "handoff."