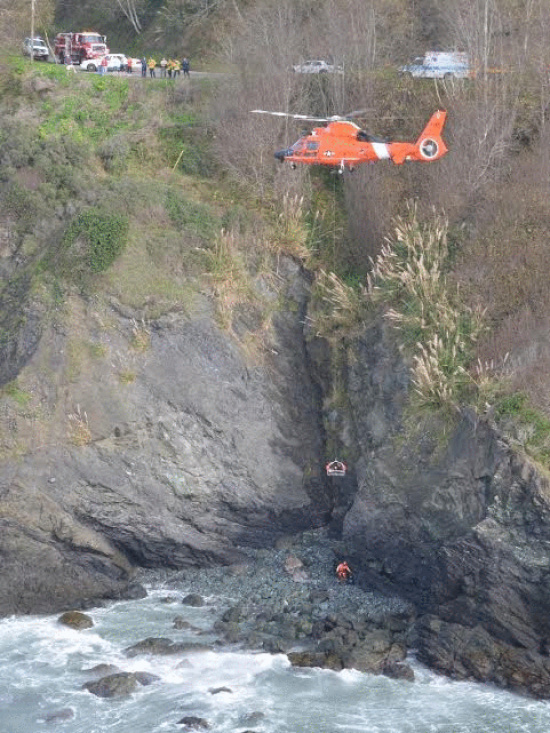 US Coast Guard press release:
A Coast Guard MH-65 Dolphin from Sector Humboldt Bay rescued a man who fell down cliffs at Baker Beach near Trinidad, CA.

At 11:00 a.m. Coast Guard Sector Humboldt Bay received a request for assistance from the Humboldt County Sheriff's Office (HCSO) to rescue a man who fell down a cliff at Baker Beach. The man previously fled from HCSO following a traffic stop and fell down the cliff during the pursuit.

Coast Guard Helicopter 6556 diverted from cliff rescue training and arrived on scene at 11:18 a.m. With the assistance of HCSO the crew immediately located the injured man and deployed their rescue swimmer to evaluate the patient. The rescue swimmer determined the patient had a severely fractured/dislocated ankle and due to the nature of his injuries was not a flight risk. The helicopter crew hoisted the patient with the rescue basket, recovered their rescue swimmer, and transported the patient to Mad River Hospital. The helicopter landed at Mad River Hospital at 11:52 a.m. and immediately transferred the patient to the emergency room under the custody of a HCSO officer.

For any further information regarding the patient, the traffic stop, or any charges pending please contact HCSO.
PREVIOUSLY: Injured Petty Theft Suspect Rescued by Helicopter in Trinidad