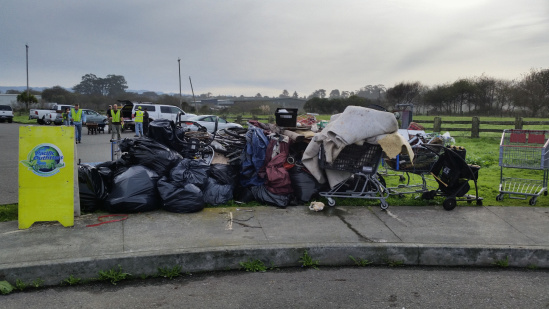 Since last week's focus on the environmental problems surrounding homeless encampments on Humboldt Bay, several people have reached out to Humboldt Baykeeper and the Northcoast Environmental Center requesting more attention be paid to this issue.

We all are concerned, of course, about the impacts to Humboldt Bay and coastal wetlands from these camps, as well as from illegal dumping, but must note the the water quality impacts are just one aspect of a much larger social problem, not just in Eureka but in many communities all over the United States. Forcibly moving people along to the next campsite is a temporary and harsh "fix" that ignores the mental health, addiction and income inequity factors that often lead to homelessness.

Given that any successful long-term solution must resolve the lack of services for people in need, we strongly suggest that you contact your elected representatives in Eureka and on the County Board of Supervisors. They need to hear these concerns from their constituents as well as from environmental advocates and be aware we want action.
In the short-term, here are the numbers to call to report water pollution:
Polluters that are impacting fish and wildlife habitat – CALTIP, 888-334-2258
Illegal dumping – Humboldt County Environmental Health, 445-6215
Stormwater pollution (e.g. spills into storm drains) – Northcoast Stormwater Coalition Hotline: 1-877-NCSC-001
Navigational hazards/spills in marinas/sunken boats – U.S. Coast Guard, 839-6123 (emergency search and rescue calls: 839-6100), Humboldt Bay Harbor, Recreation, and Conservation District, 443-0801
In the meantime, the PacOut Green Team not only cleaned up Trinidad's Scenic Drive last Saturday, but followed up at the foot of Del Norte Street. Leader Aaron Ostrom reports:
We noticed that no action had been taken to clean up that place yet. We were surprised, considering all the press that area has been getting lately. We talked to a lot of the people that lived out there and they were willing to bag up their garbage if they were provided trash bags… After 60 minutes we packed out over 3,000 lbs. of trash.
And, once again, as I write YWIO, news comes in that police action is happening in the area…
Coastal Currents: On the passing of Proposition 1
Today on Coastal Currents (KHUM at noon), Mike Dronkers and I will talk with Conner Everts, Environmental Water Caucus co-facilitator at L.A. Waterkeeper about what the passage of Prop. 1 means for Northern California, especially regarding Klamath dam removal and the potential construction of new dams. Along with North Coast Assemblymember Wes Chesbo, Everts signed the No on Prop 1 argument.
EcoNews: Your environmental news digest
The new EcoNews Report is out, available online or free at a newstand near you, and features a roundup of environmental happenings locally and beyond, including a look at some of the studies being done in and around North Coast marine protected areas. One of the studies focuses on 10 different sites in rocky intertidal zones from Smith River to Fort Bragg. Sea Grant's Joe Tyburczy and HSU's Sean Craig led an intrepid team of students out to Palmer's Point yesterday to continue surveys of the area.