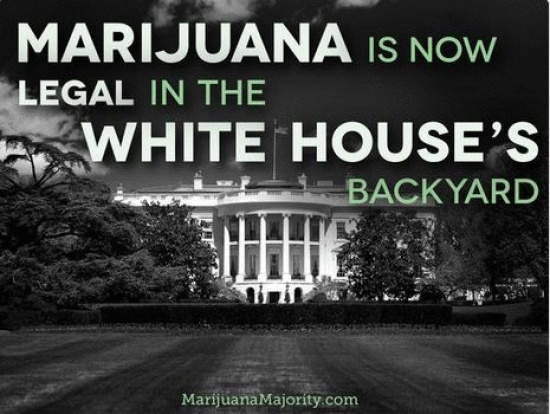 Photo tweeted by the Marijuana Majority (@JoinTheMajority)
Cannabis smoke drifting over the fence at the White House will be as legal as wine fumes now. Washington D.C., following a campaign focusing heavily on the idea that legalization ends discrimination, made personal possession of 2 ounces or less of marijuana legal tonight.
Also, the Vote Yes campaign there has a fun little shout out to folks here. See below or, to see the whole comic strip, click on this link.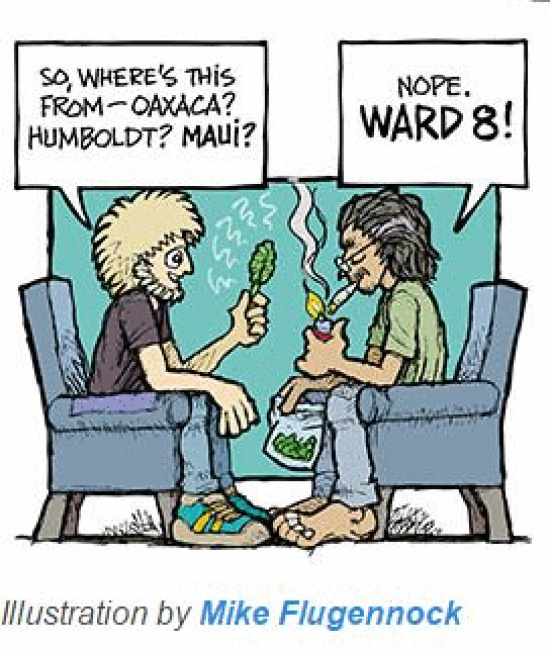 In a move that will surely affect prices and demand here in Humboldt, Oregon, our northern neighbor, legalized recreational marijuana tonight, too. Though cannabis cannot legally be sold over state lines, reportedly a good deal of Humboldt marijuana already ends up on the market in Colorado and Washington. (See this somewhat overheated article here.) Presumably, black market marijuana from the Emerald Triangle will now be traveling north to meet demand in Oregon, too.
In addition, because Oregonians voted yes to recreational marijuana then this will embolden legalization activists here in California. Though marijuana legalization was already on the plate for our golden state in 2016, a defeat in Oregon would have dampened enthusiasm for a fight here. Now, California will more than likely have an opportunity of voting yea or nay on more cannabis legalization in two years.
In other related election news, the right to have medical marijuana failed in Florida. Currently it has more that 57% of the vote but, according to laws in that state, needed 60%. Most major news organizations are calling this a defeat.
Guam, that tiny little territory of the United States way off on the far side of the Pacific Ocean, however, legalized marijuana for "debilitating medical conditions."
There are also other important cannabis elections nationwide. The vote for legalizing recreational marijuana in Alaska (as of 9:30 p.m. November 4) was still not decisive enough to call. went yes for legalizing recreational marijuana. Two cities in Maine are voting on similar legalization proposals as of the time of this writing, one looked to pass and one to fail. one passed and one failed.
See more information on other votes about cannabis across the U.S. here.