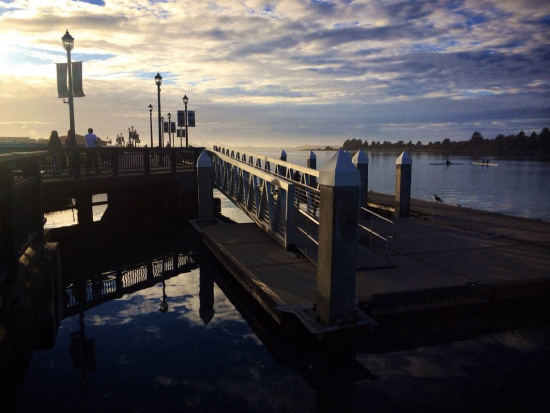 Take a "Moonrise Paddle Tour" on Humboldt Bay this Saturday at 5 p.m. with HSU's Aquatic Center.
Your brain has been busy researching issues and candidates, your body with getting to the polls, your heart with celebrating victory – or coping with disappointment. With all the Election Day madness, you can't be expected to remember everything else going on.
But nothing restores optimism like some time spent in Humboldt's inspirational outdoors.
Call this the "To-Do List" edition of Your Week In Ocean.
Ocean Night
First up, tomorrow is the first Thursday of the month, which means Ocean Night! November's feature is surf classic Step Into Liquid. Big waves on the big screen.
Also showing: Dark Side of the Lens, The Story of Stuff and anything else deemed fun and worthy and short. As usual, the event is all ages and boasts the most self-effacing raffle experience in Humboldt County.
All the magic happens at the Arcata Theatre Lounge, doors at 6:30 p.m., movies at 7 p.m.
Implementing the Golden Rule
Readying parts for the Golden Rule restoration. Photo courtesy Veterans for Peace.
Veterans for Peace continues to restore famous sailing ketch The Golden Rule in anticipation of once again taking to sea in protest of militarism and nuclear weapons. They're in need of volunteers to help with an upcoming "gluing party"– email vfpgoldenruleproject@gmail.com if you have the skills and desire to help.
Cleaning up Clam Beach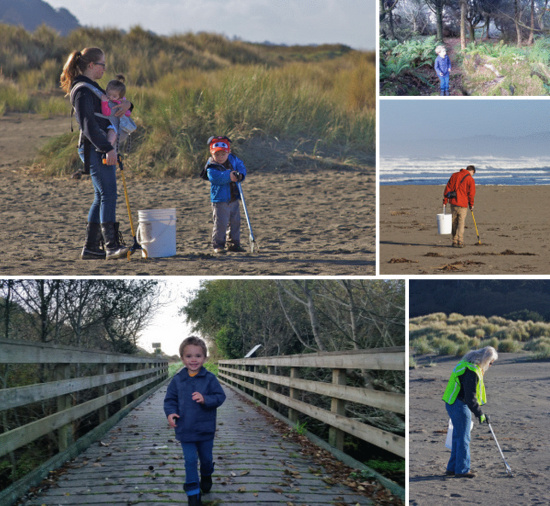 Kids can do it. You can, too! Photo courtesy PacOut Green Team.
The indefatigable PacOut Green Team tackled one part of Clam Beach last week and will kick ass on another part this Saturday. Meet at 8:30 a.m., pick up garbage from 9 to 10 a.m. Full details here.
Restoring the dunes (cookies!)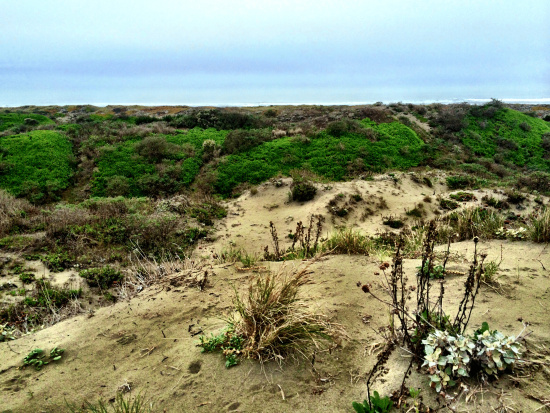 How many native plants can you name?
Volunteers are needed to help restore the dune ecosystem at the Friends of the Dunes property on Saturday, Nov. 8 from 9:30 a.m. to 12:30 p.m. Tools, gloves and cookies will be provided. Bring water and wear work clothes. Meet at the Humboldt Coastal Nature Center aka Humboldt's Best Building, 220 Stamps Lane in Manila.
Take your small person to Nature Story Time, also at the Humboldt Coastal Nature Center, also on Saturday. The story time runs from 2 to 3 p.m., is geared for ages 3 to 6, includes sharing a nature-themed book and participating in a simple craft project. It's adorable!
Kids art thing #1
Arcata's Neighborhood Boardshop has not only relocated from 11th Street to Alliance Road, but has expanded into a full-fledged art collective – check out Seapod's creations for starters. This Saturday, the surf shop hosts an art day for kids from 9 a.m. to 1 p.m. Mixed media tables will be set up and each participant is invited to submit a piece for the Nov. 14 Arts!Arcata.
Go to Greenland via Eureka. With Helen.
Explore North Coast invites the public to their program "Helen takes us to Greenland" on Monday, Nov. 10 from 6 to 8 p.m. at the Humboldt Bay Aquatic Center.In July, 2014, world-renowned Greenland rolling champion and Arcata resident Helen Wilson and her husband, Mark Tozer, guided a 13-day sea kayaking expedition in South Greenland. This presentation will take you through their many adventures, which include paddling through massive iceberg fields, exploring abandoned settlements, visiting working villages, soaking in natural hot springs and visiting the Greenland National Kayaking Championship.

Art thing #2
California students in kindergarten through 12th grade are invited to submit artwork or poetry with a California coastal or marine theme to the annual Coastal Art & Poetry Contest.Entries must be postmarked by January 31, 2015 to be eligible for the upcoming contest. For rules and entry form (and helpful links for teachers and students), look here.
Jennifer Savage is the Northcoast Environmental Center's Coastal Programs Director and Humboldt Surfrider Chairperson.