UPDATE, 4:02 p.m.: The beast has now been spotted in Eureka.
# # #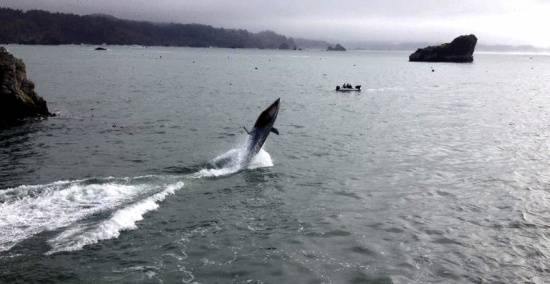 Is this submarine? A boat? Whatever it is, a small crowd has gathered on the pier in Trinidad to watch some pretty unusual watercraft in action (example video below).
KHUM spoke with Joe Natale of Seabreacher. He says these stunt boats are made in Redding and that they're out here to shoot video today.
"It's a semi-submersible craft. We can submerge it about five feet at about 20-25 miles an hour, and then porpoise the whole craft out of the water. We can also barrel roll, and it'll travel at about 55 miles per hour on top of the water."
(AUDIO) KHUM Sharkmarine interview
Big thanks to KHUM compatriot Jason Self for the tip and the photos.