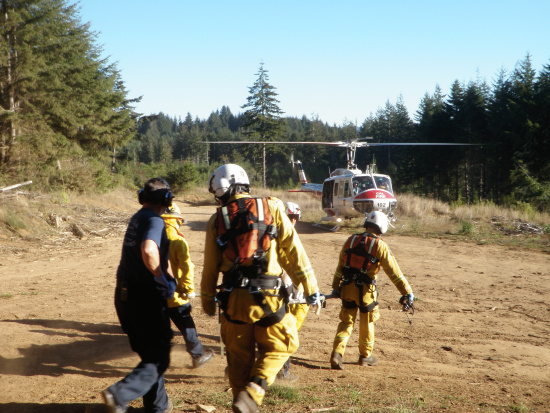 Arcata Fire Protection District Press Release:
Arcata Fire Protection District was dispatched to motorcycle accident in the area of First Road and D Avenue in McKinleyville at 1601 Hours. One Arcata Fire engine and one battalion chief arrived and met personnel from Arcata Mad-River Ambulance to develop a plan of action for the rescue. Bystanders reported the patient was approximately 1 1/2 miles from the paved road and reported no vehicles could make it to his location. One team was sent in from First Road while a second team responded to Murray Road to attempt access with a vehicle. The Incident Commander ordered a Cal Fire helicopter for a possible hoisting operation.

Battalion Chief Campbell reported,"This rescue took a lot of coordination between numerous agencies. Green Diamond Resource Company, Arcata Mad-River Ambulance, Cal Fire and our firefighter's did an excellent job working together to make access to the patient, develop a plan and successfully medi-vac the patient to a trauma center".

The teams made access to the patient on foot and by vehicle and started patient care. The helicopter arrived approximately 15 minutes after the crews began patient care and landed on a logging road that was near the patient's location. The copter crew set the copter up for medi-vac operations and transported the patient to a rendevous point where he could be flown to a trauma center out of the county.

The patient sustained major injuries as a result of the accident but was stablized by the rescuers at scene. The paramedic at scene requested arrangements be made to transport the patient out of the county because there was no orthopedic care in the county.

Battalion Chief Campbell stated "I am very pleased with the outcome of this incident. The patient was doing well when we loaded him in the copter and that is soley because of the efforts of our local rescuers and the patients friends who helped us. They did an great job today". ​