CORRECTION: The original version of this post stated that Hensel's Ace Hardware in Arcata sells D-Con rat poison. Co-owner Ceva Courtemanche informed the Outpost that the store stopped selling the product at the beginning of the year. The Outpost regrets the error.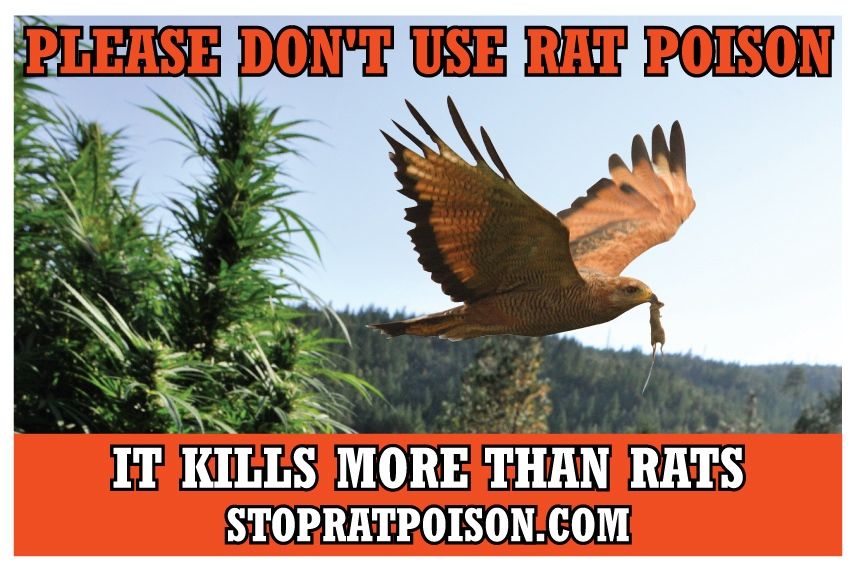 Federal biologists are nominating the Pacific fisher for protection under the Endangered Species Act, in part because the adorable weasel-cousins are being killed by ingesting the rat poison used on illegal marijuana grows, the Associated Press reported today. Meanwhile, a group of local activists is hoping to curtail this deadly rodenticide use by raising public awareness through yard signs with the image shown above. The signs are also now available in Spanish and Bulgarian.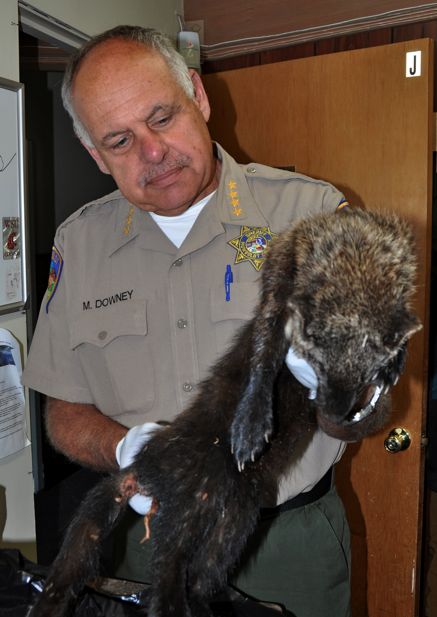 Tomorrow, the U.S. Fish and Wildlife Service will officially propose listing the fisher as a threatened species in California, Oregon and Washington. The public will have 90 days to comment, and then scientists will ponder and analyze before making a final decision Sept. 30, 2015, according to the AP.
The fisher has also lost forest habitat to wildfire, logging and urban development, but rat poison seems to be the most persistent danger. The AP story says, "The full proposal notes that 84 percent of the 77 fisher carcasses found in California's northwestern mountains and the southern Sierra Nevada tested positive for rat poison. A map shows that virtually all fisher habitat includes illegal marijuana growing sites."
Darryl Cherney, a fixture in SoHum environmental activism who helped launch the yard sign campaign earlier this year, said rat poison doesn't just kill fishers; it's also a danger to hawks, owls, martens, foxes and more, including house pets. The poison can move up the food chain. So if, for example, a spotted owl were to eat a poisoned rodent, the poison could potentially kill the owl.
Cherney said the proliferation of rodenticide use can be explained in part by the changing culture and demographics in Humboldt County. This dramatic shift struck Cherney like an epiphany recently, he said. He had just walked into Deb's Hamburgers in Redway around 8:30 p.m. and found the place packed.
"And it's never packed," he said. "As I scan the customers, it's like, "'Whoa, dude. Who are these people?'"
Some were probably tourists, Cherney said, but most of the new people in Humboldt these days are growers, trimmers and transients — Green Rush newcomers.
"With that comes a tremendous amount of people who are not familiar with the environmental ethics, and environmental history of Humboldt County. They're not familiar with the culture of volunteerism of Humboldt County," Cherney said. "The face of Humboldt County has changed irreversibly."
But Cherney and his fellow activists aren't trying to kick out the newcomers. Instead they want to guide them a bit. The yard signs, which are mounted on heavy-duty steel stakes, can be placed along backroads or driveways or in the front yards of a neighborhood home.
"We are not saying, 'Don't grow pot,'" Cherney said. "We're not even saying, 'Don't grow lots of pot.' We're saying, 'Don't pollute the environment while you do it.'"
And saying it in Bulgarian, no less.
The signs are free – though donations are welcome – and can be picked up at Hemp Connections in Garberville, Solutions or New World Water in Arcata, or you can email Cherney at esp@asis.com and he'll send you one.
The Humboldt County Board of Supervisors last year unanimously passed a non-binding resolution urging businesses to stop selling the worst kinds of over-the-counter poisons and urging residents not to buy them. And the state went so far as to ban the highly toxic second-generation anticoagulant rodenticides. But that hasn't stopped growers from using the nastiest chemicals available — including some that are outright illegal in the United States. Nor has it stopped local stores such as Hensel's Ace Hardware and Murphy's Market from selling D-Con.
(If you're a conscientious grower looking for alternatives to wildlife-killing poisons, check out this 2013 interview with Uti Deva.)
Tom Wheeler, the program and legal coordinator for the nonprofit Environmental Protection Information Center (EPIC), said the Pacific fisher, like other at-risk local species, is extra vulnerable because its habitat has been drastically reduced, with smaller populations isolated from each other. EPIC has an ongoing campaign aimed at connecting wild places.
The U.S. Fish and Wildlife proposal for listing the Pacific fisher has not been published yet, but if you'd like to peruse the 94-page document it's available in pdf form here.