UPDATE: Sunday's Bald Hills Fire Update; 209 Acres Burned, 50 Percent Contained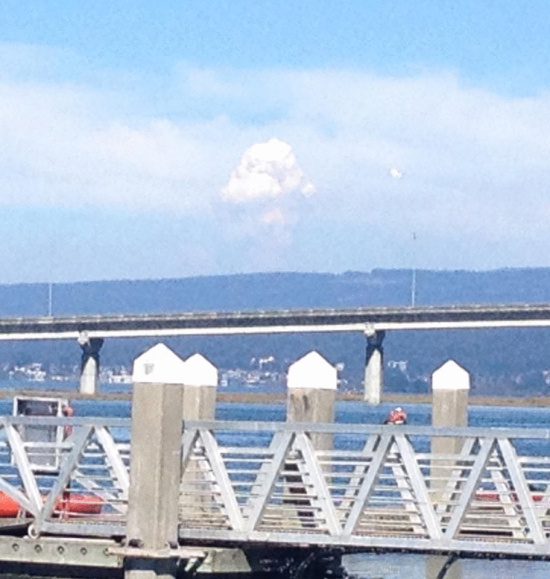 Smoke from the Bald Hills fire formed a mushroom cloud in the distance as seen from the Humboldt Bay. [Photo by Andrew Goff.]
Hoopa Valley Tribe press release:
Firefighters from Hoopa Forestry's Wildland Fire Department, the U.S. Forest Service, and CAL FIRE are continuing their efforts to contain a fire threatening homes on Bald Hill and near Bloody Camp.

Five hand crews, nine engines, and three water tenders were working on the fire lines today, with the assistance of six helicopters. The fire is actively burning in extremely dry, thick timber that has produced a number of spot fires in front of it.

Firefighters are constructing hand lines and laying hose around the fire, and will continue their efforts all night.

The fire covers approximately 250 acres and is 50 percent contained. There have been three minor injuries to firefighters.

An Incident Management Team led by Incident Commander Mike Minton, took command of the fire response on Saturday afternoon.

Hoopa Tribal Vice-Chairwoman Wendy "Poppy" George said, "I signed the fire over to a Type II team to protect lives, property, and resources that are important to our tribe."

The evacuation order was lifted at 6 pm Saturday and residents can return home.

For the safety of both firefighters and the public, people are asked to use caution when driving on Pine Creek Road and Bloody Camp Road as well as other roads in the fire area due to a large amount of fire equipment and personnel in the area.