UPDATE 6:05 p.m.: Cal Fire is now saying that all evacuation orders have been lifted. The Black Fire is now at 417 acres with 50% containment. Five structures were burnt and so were five outbuildings. Ten structures are still threatened. There have been three injuries.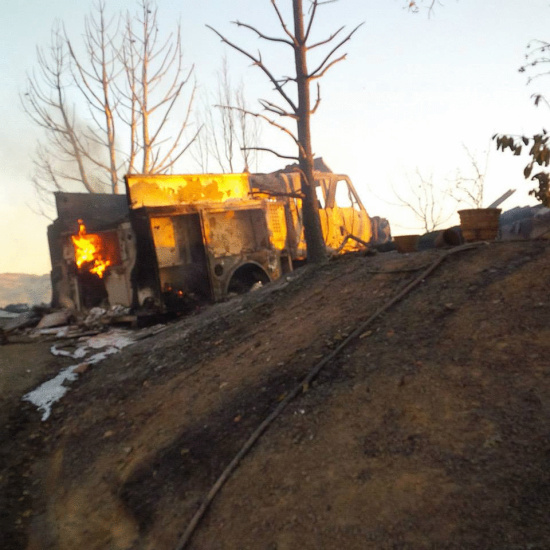 Flames burn within the remains of a fire engine. The quick moving blaze overran the vehicle yesterday near Ukiah. [Photos from the Mendocino County Sheriff's Facebook page.]
In addition to five homes burned, according to the Mendocino County Sheriff's Department, a fire engine was overrun by flames and destroyed during yesterday's fast moving wildfire northeast of Ukiah. No one was seriously hurt, a spokesperson on wrote on the Sheriff's Office's Facebook page. Twenty-five structures are still threatened by the fire which is only 30% contained.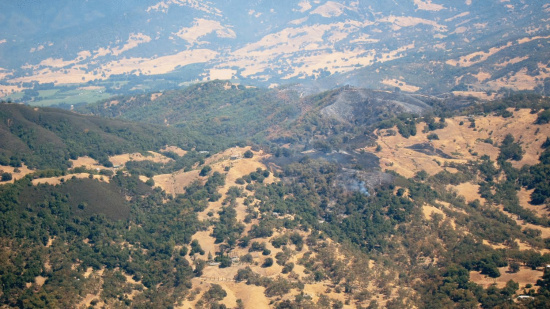 Aerial view of the fire taken earlier today [Photo provided by David Jeffreys.]
The incident is being called the Black Fire. (It started near the Black Bart Trail northeast of Ukiah yesterday a little after 4 p.m.)
Cal Fire states that "the fire is burning in a mix of grass, brush, oak and pine trees." The temperatures are high and firefighters are struggling with "high heat, low humidity, with the potential for erratic winds."
According to the Mendocino County Sheriff's Office the only evacuations still in effect is for Hell's Delight Canyon and a small dirt road off of Black Bart Trail.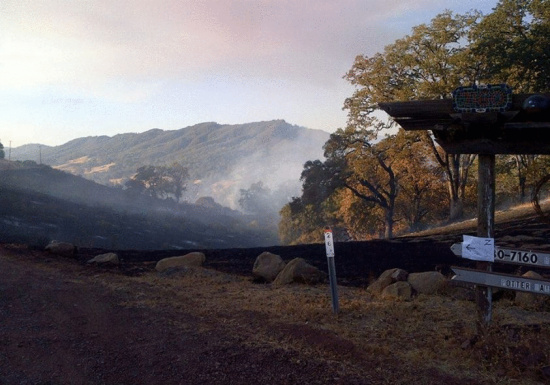 The view looking northwest just after the fire raced up and over a ridge yesterday at the intersection of Hell's Delight Canyon and Black Bart Trail.[Caption from the Mendocino Sheriff's Office.]