UPDATE: Monday's update
# # #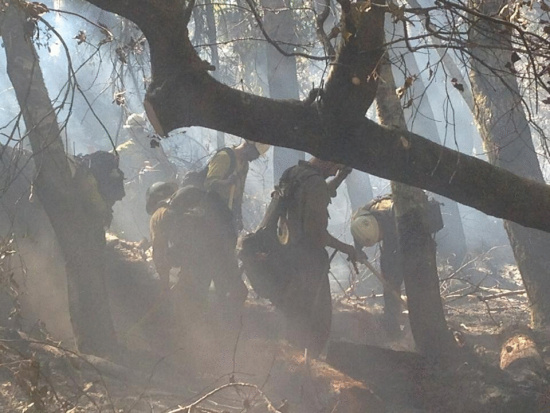 UPDATE, 4:25 p.m.: A friend of LoCO working the fire sends in the images above and below of California Smokejumpers and Wyoming Hotshots "mopping up" at the top of the fire.
"The fire is close to containment status and has fireline all the way around it," he says, adding that the top of the fire has a lot of unburned fuel inside the perimeter. Those areas will likely need to be cleaned to prevent a flareup that could send embers outside of containment lines. Still, things are looking good.
Great work, everyone.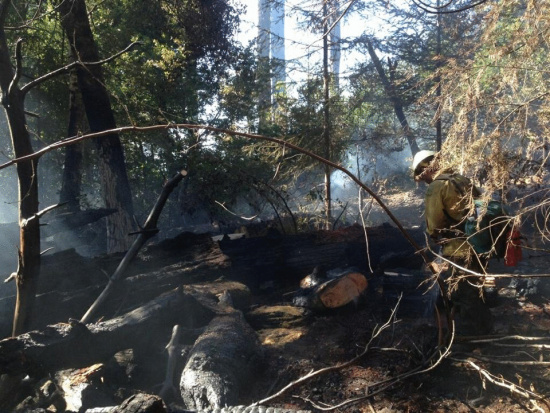 # # #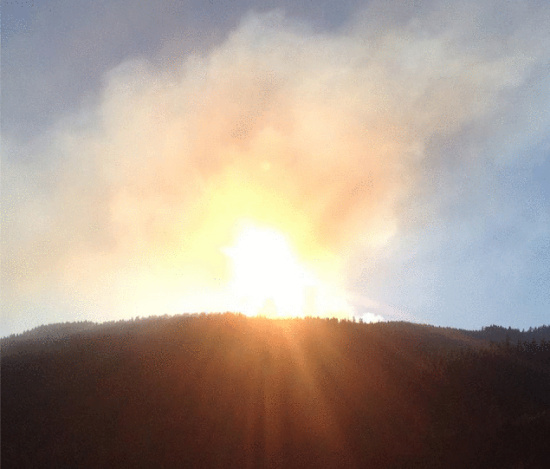 Hoopa Valley Tribe press release:
Firefighters made good progress containing the fire on Bald Hill in Hoopa on Saturday night. Crews, working by hand, finished carving out a firebreak line on the fire's eastern edge around 2 am.

Crews worked all night constructing fire lines and starting mop-up operations in areas where fire line construction had been completed.

The 209-acre fire is approximately 50 percent contained as of Sunday morning.

There were no new injuries to firefighters, other than three minor injuries reported on Friday, and the evacuation order for residents was lifted on Saturday.

"We had a really good night," said Incident Commander Mike Minton, adding that the reason for the operation's quick success was the speed of the initial attack by local firefighters to contain the fire when it first started.

Kevin Lane, head of Hoopa Forestry's Wildland Fire Department said, "We had one of our engines, a Yurok engine, the Hoopa Volunteers, and a helicopter from Kneeland."

There are now 11 hand crews, 14 engines, seven water tenders, three bulldozers, and six helicopters assigned to the fire and there will be a large amount of fire equipment moving through the Hoopa Valley for the next several days.

For the safety of both firefighters and the public, people are asked to use caution when driving on Pine Creek Road and Bloody Camp Road as well as other roads in the fire area as firefighters are still working along the roads in the area.
PREVIOUS BALD HILLS FIRE: