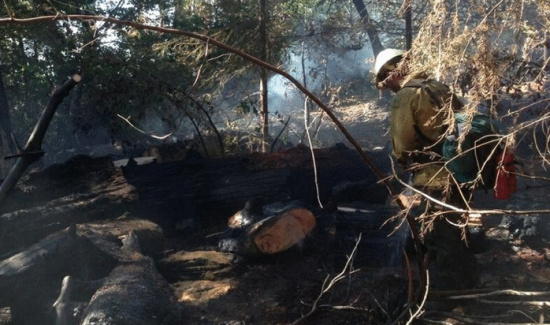 Hoopa Valley Tribe press release:
Firefighters have been successful in getting a fire line around the Bald Hill 3 Fire in Hoopa and are starting mop-up and suppression repair activities today.

The 210-acre fire is now 85 percent contained as of Monday morning.

Today over 400 firefighters will be working on putting out any hot spots that are within 300 feet of the fire line. They will also remove any hazardous trees that may fall across the fire line or onto the roads. Crews will also start erosion prevention actions to help prevent damage because of water runoff.

Weather conditions will be changing over the next several days with cooler temperatures, increased humidity, and a chance of light rain Wednesday and Thursday.

The fire is anticipated to be fully contained by Wednesday.

12 hand crews, 16 engines, four water tenders, four bulldozers, and three helicopters were assigned to the fire today.

The public is reminded that there will be a large amount of fire equipment moving through the Hoopa Valley for the next several days and to use caution when driving in both the fire area and around the fire camp set up at Forestry's Wildland Fire Department.
PREVIOUS BALD HILLS FIRE: