UPDATE 4:34 p.m.: According to a neighbor looking across the canyon through a telescope at the operation, the officers are chipping the marijuana with a wood chipper. "They're just chipping the 2nd or 3rd [greenhouse] now," the neighbor said about 4:30 p.m.. "They're chopping [the pot] down and carrying it to the door and throwing it out. Their chipper's going to gum up with all they're doing."
Then the neighbor added, "Those poor guys are really working hard and earning their money."
UPDATE 1:40 p.m.: These two photos were taken about two hours after the one below. Marijuana plants in the upper greenhouse have been partially eradicated. To the right in the upper photo are vehicles containing, according to scanner traffic, employees of the Dept. of Fish and Wildlife and Humboldt Co. Planning Dept.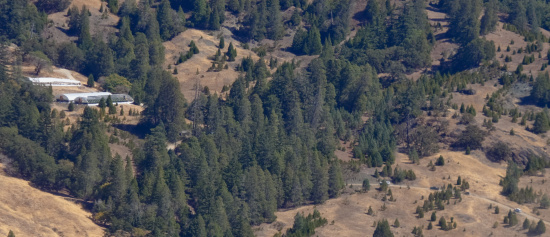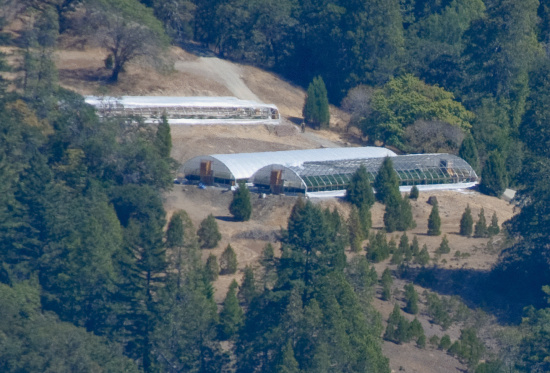 UPDATE 1:30 p.m.: Photo of the property being raided. There are five greenhouses, two large to the front of the photo. Three smaller behind.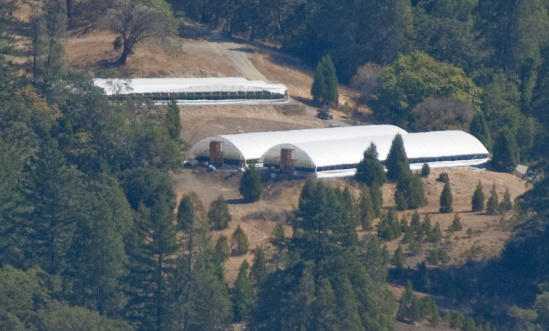 ###
Original post:
Humboldt County Sheriff's Deputies are in Salmon Creek this morning. Multiple trucks with trailers as well as other vehicles have gone to a property with multiple greenhouses.
There are "numerous units in the Salmon Creek area on a warrant," Sgt. Kevin Miller of the Humboldt County Sheriff's office.
Scanner traffic indicates there is an active pump in the creek. The Department of Fish and Wildlife has been called for as well as the Humboldt County Planning Department. Miller could not confirm these details at this time.