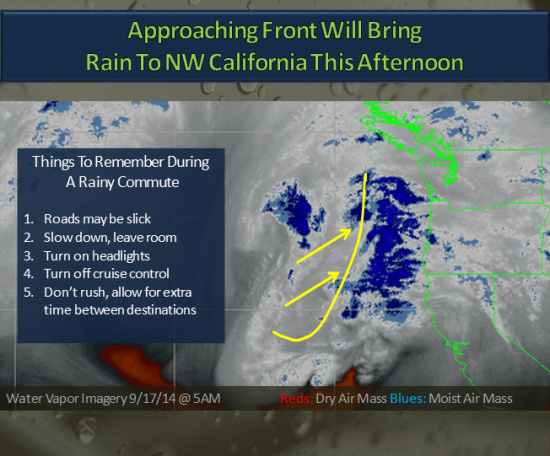 Graphic from the US National Weather Service in Eureka. Follow their Facebook page here.
According to the US National Weather Service in Eureka, rain is moving over the area today and tomorrow. The weather folks are predicting a 40% to 50% chance of showers. Between a tenth and a quarter of an inch are forecast for areas of Humboldt. (And that means a certain sector of the local cannabis community is buying leaf blowers to stave off mold.)
In addition, There are hazardous conditions predicted for the ocean and on the beaches nearby. The Weather Service warns,
Long period southwesterly swells will impact northwest California beaches today and tonight. This swell will result in stronger than normal currents and occasional larger wave sets on southerly facing beaches. The stronger currents will be particularly dangerous to those recreating in the surf zone including abalone divers.
Also remember this will be the first rain of the season and roads will be slick from accumulated oils. Allow extra time for traveling and please drive slowly.
In addition, be extra vigilant watching for smoke in areas near towns as those without homes may be tempted to start fires because of the chill but the relatively light rain predicted will not significantly dampen dry conditions.
Ask yourself do you really need a fire in the woodstove? A fire is unwise even in a fireplace. Now, however, would be a good time to prepare the stove for winter by checking if the pipe is clean and tree branches haven't grown too close to the chimney. Are your gutters clear and debris off the roof?
Enjoy the rain if you can and be safe.