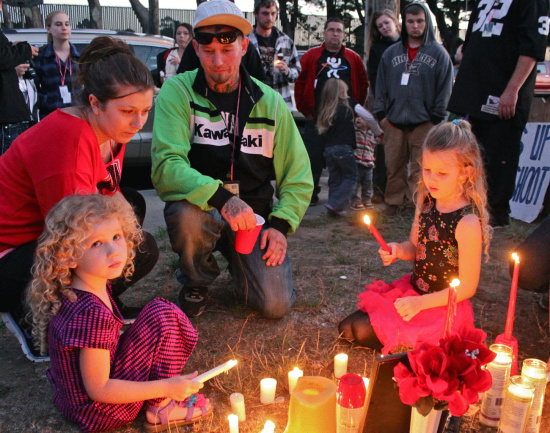 Friday evening, around a hundred people gathered in the front yard of a home on Allard Street in Eureka on the very spot where, two days prior, 22-year-old Tommy McClain was shot and killed by an officer with the Eureka Police Department.
The event was organized and promoted via the "Justice for Tommy McClain" Facebook page by McClain's cousin Nikki Mottern and her husband Josh — who lived in the house with Tommy where the incident occurred — and was attended by his mother, step-father and brother who'd traveled up from Fresno.
The crowd shared stories, lit candles and released balloons for their loved one (see the video below).
The Outpost's Kym Kemp has been talking with parties on all sides of Wednesday morning's events and will have a full report online tomorrow morning. (Update: Click here.)
PREVIOUSLY: