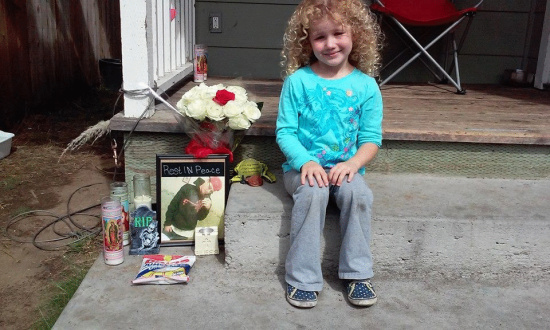 Valorie Mottern, age 4, sits on her front steps beside a shrine to her dad's cousin. He died Tuesday in Eureka as the result of an officer-involved shooting. [Photo provided by Nichole and Josh Mottern.]
Thomas McClain died after being shot by Eureka Police Department officers in his front yard. Did he have a gun? Was the shooting justified? Family says no. Law enforcement and one neighbor say otherwise.
Nichole Mottern still can't bring herself to believe that Thomas McClain, her husband's cousin, was fatally shot by Eureka Police Department officers early Wednesday, September 17. She speaks of McClain in the present tense.
"Tommy lives with me and Josh and my kids," she explained. "He came up here to get away from the Fresno lifestyle. He became our family."
On Tuesday, she had taken the two men out for her husband's birthday. She explained during an interview Thursday that Josh Mottern, her husband and McClain's cousin, was inebriated so he went upstairs to bed in their two-story townhouse. Her mother, who had been babysitting, was on the living room couch.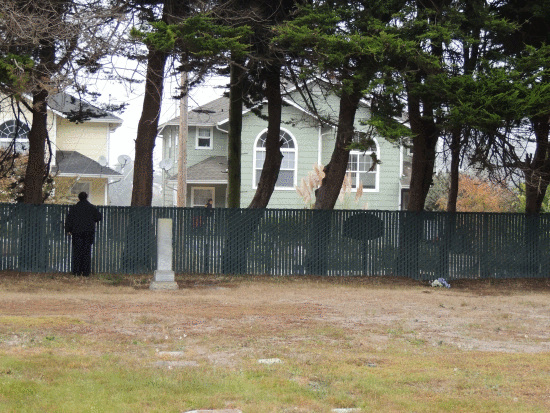 The home of Thomas McClain. He, his cousin, his cousin's wife and two children shared the space in one unit. Another residence, which is currently empty, is attached.
Mottern said she and McClain were outside chatting in the front of the house after midnight (Tuesday night/Wednesday morning) when she ran upstairs to check on her husband. From there she looked out the window and noticed a police officer behind her home "looking around."
"All of a sudden he took off towards the front of the house," Mottern explained. She ran downstairs and outside to see what was going on. (She believes she was in the house a very short time, about two minutes.) When she got onto the front porch, bright lights were shining in her eyes.
She described what she remembers to the Outpost. "The cops were out there screaming, 'Put your hands up! Put your hands up.' I put my hands up," she said.
McClain, she explained, was on the lawn area near the home. "Tommy was already out there," she said. "He sits out there and smokes cigarettes. He came out from beside the porch… . He started to put his hands up. He walked out into the grass… . [The officers] were telling him to come."
In an interview also on Thursday, Corinna Ward, Mottern's mother, said she was on the porch by the front door. She described law enforcement as being "in a semi-circle, at least five or maybe six [officers]."
Eureka Police Chief Andrew Mills said there were four officers at the scene.
According to Ward, the officers ordered McClain to the ground. "They were telling him to get down," Ward said, "I don't think he understood… . I don't know."
Ward doesn't believe McClain was armed. "I didn't see anything," she said. "His hands were near so you could see. He had them raised. He stepped forward. I didn't see anything in them."
Mottern described what she believes happened next: "A cop yelled, 'He's got a gun.' They all fired. I saw him getting shot from all different angles. First shot fired and then they all fired. It wasn't one cop. It was them all. There were a lot of cops… . He crumpled down into the ground." [According to scanner tape, this occurred about 12:30 a.m. Wednesday.]
She believes the shooting was not justified. According to Mottern, McClain didn't have a gun. "There was nothing in his hand," she said.
A neighbor who wishes to remain anonymous disagreed. In an interview today the individual said, "I did see an object in his hand." The individual did not want to describe the situation further except to say, "I feel that the level of force used was justified. It was a clear threat to the officer's life. I feel it was unfortunate. But it was fortunate that no others were injured."
Another neighbor who also wishes to remain anonymous described what she saw. She said she was in bed when she heard yelling. "I got out of bed. By the time I got to the window, I heard four gunshots. I sunk back against my bed. After the initial shock hit me, I started to look out the window. There were three cop cars that I could see. [Officers] were yelling that shots had been fired… . Right after the man had been shot, I looked at the time and it was 12:30 [a.m.]."
In her interview, Nichole Mottern described what she believed happened next. "After they shot him, they handcuffed him and he was laying there lifeless… . [The officers] wouldn't let us go to him. They told us to put our hands up… . When you have all officers shouting at you different commands, it is very confusing. Especially when you aren't doing anything wrong."
At this point, Josh Mottern arrived outside from upstairs. Mrs. Mottern explained what she saw: "My husband came out. He saw Tommy laying there. He started screaming and crying. He thought some tweeker guy shot Tommy."
Corinna Ward, Mrs. Mottern's mother, recounted the incident as she saw it: "[Josh] was really distraught. We were trying to keep him back so he wouldn't get shot. [Law enforcement officers] tasered him. Then tackled him and then sent him off to jail."
Below is footage taken by Nichole Mottern just after her husband was tasered. Warning. This is a disturbing video.
While Mr. Mottern went to jail, Mrs. Mottern went to the hospital to be with Thomas McClain. "They took him in an ambulance. I couldn't be with him for his last moments," she said.
Then she added slowly, quietly, "They treated him like a bad person."
"[Some people] are saying that Tommy was fighting with someone," Mrs. Mottern said. But she doesn't think that could be true. She doesn't think she had been gone long enough for a fight to start. "He had just liked a picture on my Facebook a minute before." (See screenshot below.)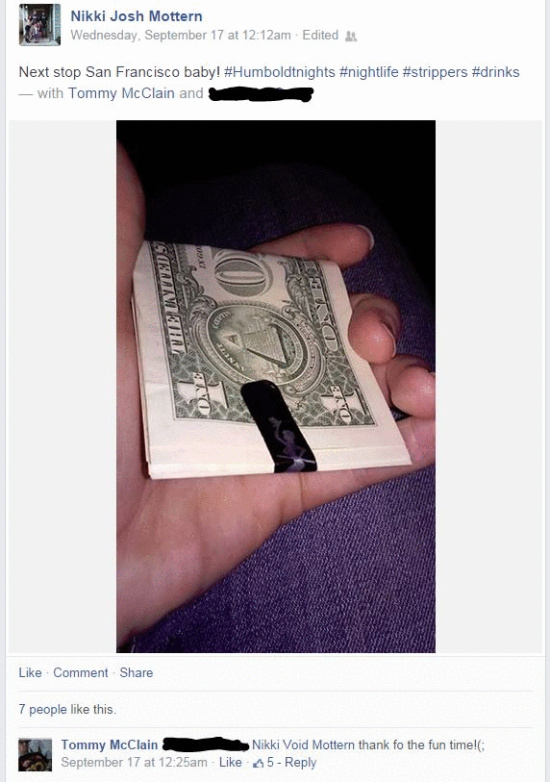 Thomas McClain liked and commented on a photo posted by Nichole (Niki) Mottern. He thanked her and another friend for the fun time they'd had that night approximately five minutes before the fatal shots were fired.
"My kids have been really affected," she said. "I told the teacher what was going on and asked her to be there for [my daughter] a little bit extra… . My daughter drew a picture of Tommy with his hands up."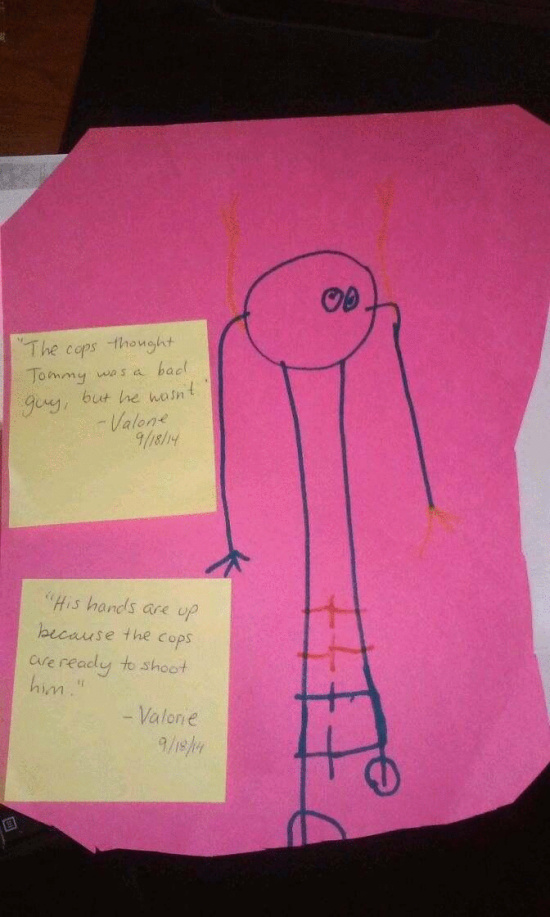 Drawing of Thomas McClain by Mottern's daughter, four-year-old Valorie, who told the teacher, "The cops thought Tommy was a bad guy but he wasn't. "
"There's bullet holes in my yard," she said. "Bullet holes in the house next to me. I live in a townhouse. There is another house on the other side. They had just moved out or there would have been people on that side."
Reached at home, Eureka Police Chief Andrew Mills said that he doesn't think there were bullet holes in the unit next door. "I don't believe so but am not sure," he said.
[UPDATE 10:a.m.: Photos added below from Nichole Mottern. She says the images show the bullet holes left in a residential unit connected to her home and in the fence around her home.]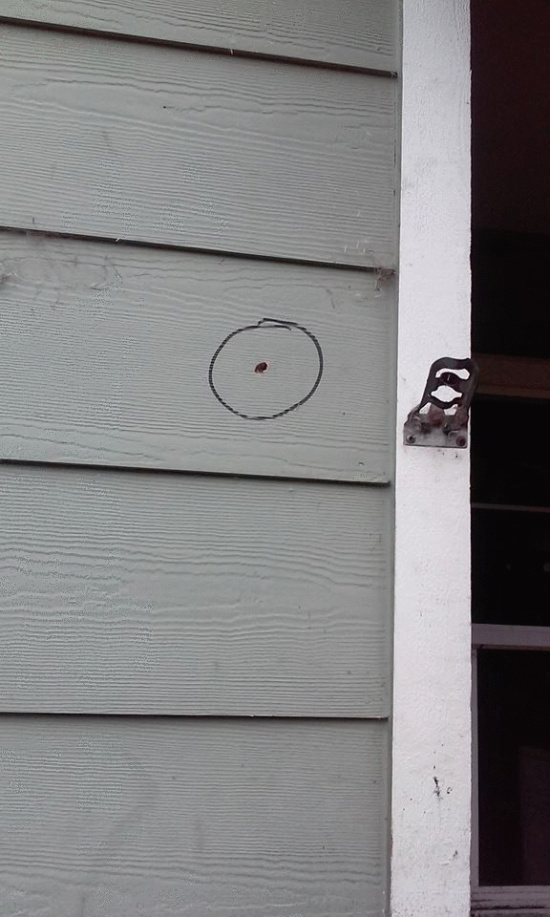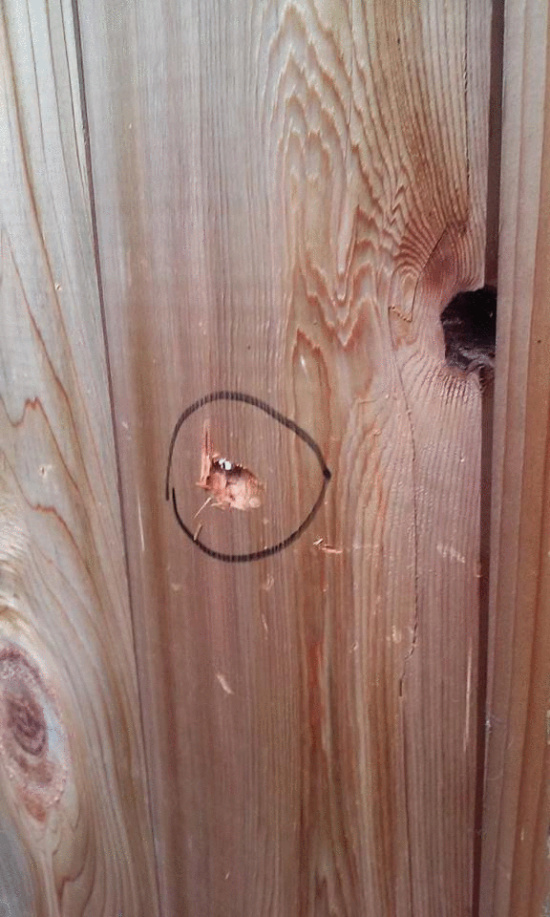 [UPDATE 12:04 p.m.: In response to the photos, Chief Mills said, "The DOJ [Department of Justice] crime scene specialist are good at what they do. If it was something missed I will make sure that it is collected properly."]
Mills did confirm that "there was a gun recovered. I don't want to get into where exactly the gun was until I can prove that forensically to my satisfaction… . I want to make sure I'm a 100 percent accurate."
Mills said that his team is asking "tough questions of the officers." He says that their stories have to be verified through evidence. "That is why I'm being slow and careful. We want to count everybody's bullets and look for shell casings."
"When we do the administrative review," Mills said. "I'm going to bring outside experts to look at this. We'll look at a broad range of things. We may need different equipment or different tactics. I'm not saying that is the case but I want other people than Eureka Police Department to look at this so we can have as broad of perspective as possible."
Chief Mills spoke quietly. "I've talked to some of the family members and my heart aches for them. But my heart also aches for my officers. The whole thing is a tragedy."
"None of it makes sense," Mrs. Mottern said. "It was a really good night that ended really bad."
*In the first paragraph, this post corrects an earlier version that mistakenly said two neighbors believed the shooting was justified.
PREVIOUSLY: