UPDATE 6:05 p.m.: CHP press release:
On the afternoon of Monday, September 22nd, a single vehicle traffic collision on US-101, south of the St. Louis overcrossing, resulted in one fatality and multiple injuries to the occupants.

At approximately 2:15 p.m., a silver Toyota 4runner with four occupants was traveling erratic southbound on US-101. For reasons still under investigation, the 4runner drove out of control through a Caltrans construction zone, across the grass median, overturned across the northbound traffic lanes, and came to rest on its roof on the northbound shoulder. The vehicle's unrestrained female driver was ejected during the course of the collision while the other restrained occupants remained in the vehicle. Shortly following the collision, the female driver, whose name is being withheld pending family notification, was pronounced deceased at the scene. 56 year old Virgil Blake, Sr. of Hoopa, who was seated in the right front seat, and 49 year old Robert Mitchell Janes also of Hoopa, who was seated in the left rear seat, were transported to by ground ambulance to Mad River Community Hospital with moderate to major injuries. 62 year old Edward Dale Pratt of Hoopa, who was seated in the left rear seat, did not sustain any injuries out of the collision. A road construction crew was working within the center median where the vehicle drove across the center divider, however, were not struck through the course of the collision.

DUI as a factor is being investigated. The California Highway Patrol Humboldt Area is investigating this traffic collision.

The CHP reminds motorists to reduce your vehicle's speed and remain vigilant when traveling through roadway construction zones.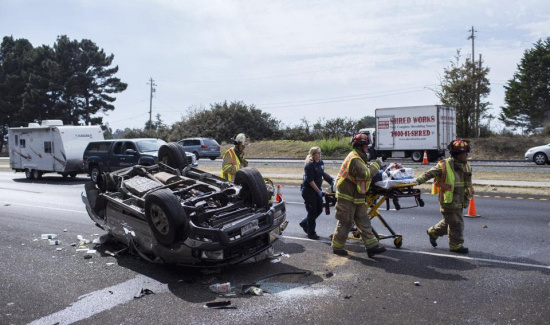 UPDATE, 3:09 p.m.: Reports coming in that there has been a second accident just north of the 14th Street exit involving three more vehicles. Seriously, Highway 101 through Arcata is a bad scene at the moment. Take another route. LK Wood or Alliance come to mind.
# # #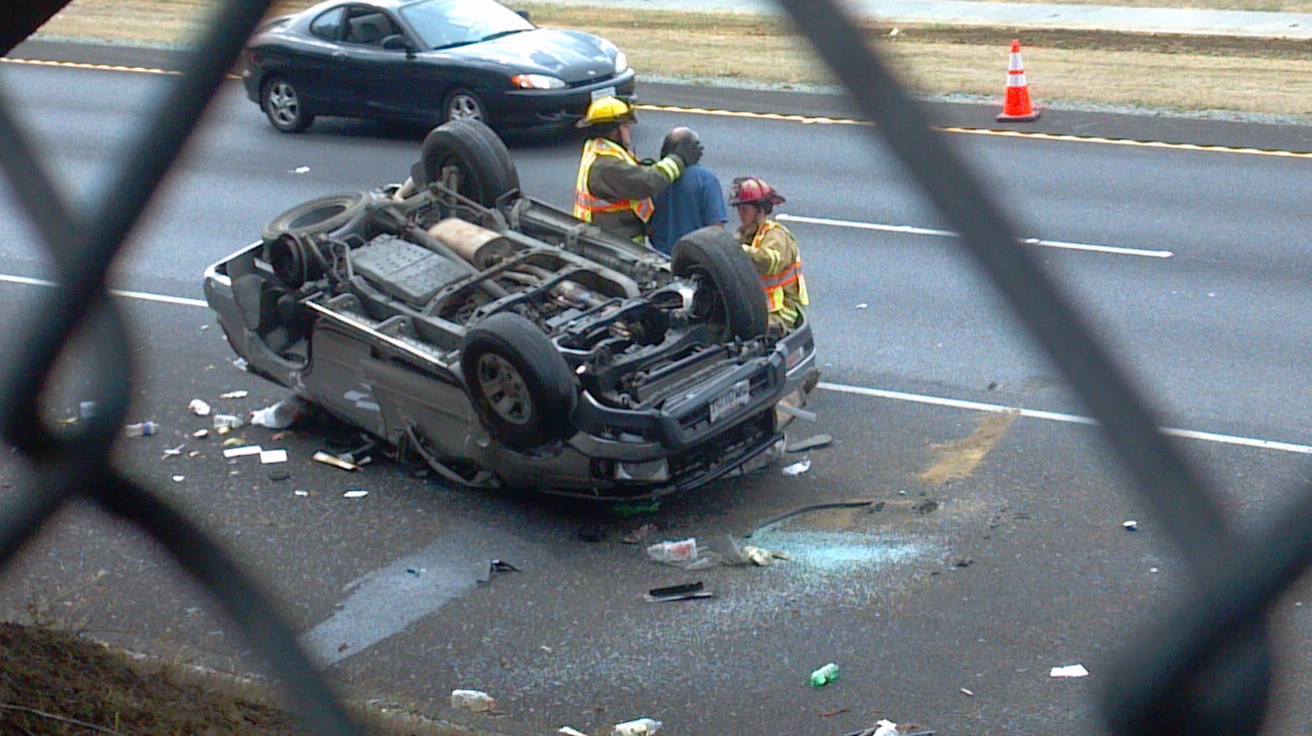 UPDATE, 2:51 p.m.: LoCO spoke via phone with the California Highway Patrol's Matt Harvey who confirmed to us that officers at the scene reported one person has been killed in this afternoon's accident after being ejected from their vehicle.
While vehicles are able to get through at this time, Harvey recommended taking another route if possible.
# # #
Original Post: Callers in to LoCO's sister station KWPT The Point are reporting that northbound traffic on Highway 101 is slowed near the Sunset Avenue exit in Arcata due to a flipped vehicle in the roadway. LoCO's CHPWatch bot is providing updates.
We will update this post as we know more. Photos above and below submitted by LoCO reader Jessica Paige.