Today on Coastal Currents, we talk water. Of course. Specifically, we'll California's need for it and your chance to solve one of the state's most intractable problems. Because the nonprofit, nonpartisan organization Next 10 has issued a challenge to Californians: Can you create a plan to make sure there's enough water for us all?
To solve one of California's most intractable problems, use Next 10's California Water Challenge, an online simulation tool that lets users create their own plan to meet the increasing demands on the state's limited water supplies. Many of the strategies highlighted in the challenge are either currently being considered or have been considered in the past at the state and/or local level including:
Increasing residential water rates by 20 percent
Retiring irrigated farmlands
Building seawater desalination plants
Expanding cloud seeding projects
Repairing and upgrading water infrastructure
As users work through the game selecting water conservation, storage, and production strategies, the Water Challenge provides information about the benefits and challenges of each strategy. The online simulation tool also measures and tallies up how these strategies impact the water gap, how much they cost, as well as how the strategies impact energy use and the environment. Easy peasy, right?
Let us know how you did in the comment section – and tune in at noon to KHUM 104.7 FM for an interview with Next 10 founder F. Noel Perry.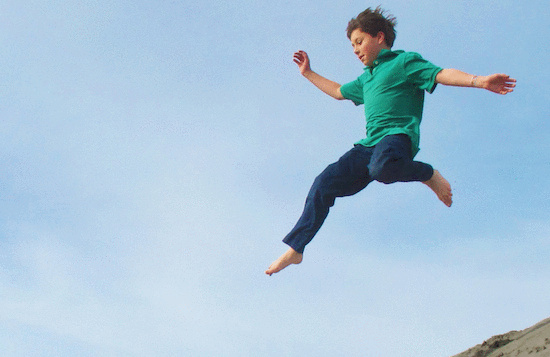 Eight-year-old Colten jumps off a slipface at the Ma-le'l Dunes Courtesy Friends of the Dunes.
Good people want you to be outside on Saturday…
Waterline Tug'O War, Black-tailed Jack Rabbit Hop and Gray Fox Trot, Beach Memory Lotto, Plover Tag, Agility Challenge, and Shake Rattle and Roll are all part of the good times promised at Let's Move in the Dunes from 9 a.m. to 12 noon at the Ma-le'l Dunes South.
Still riding that Coastal Cleanup Day high? Get another fix with the PacOut Green Team.
And Sunday!
Rollerskating and plein art painting, kayaking and birdwatching will all be featured along the Hikshari' trail during the Redwood Community Action Agency's Explore the Coast day. You can borrow skates and kayaks – for free! – or bring your own.
Big, big waves!
The T-S reports on the big swell anticipated to arrive today. Watch from afar, folks – and note that BLM is doing roadwork out at the Harbor Entrance/North Jetty road and lot.
M Sid Kelly's Twitter feed does not disappoint
If you like great photos of interesting local sealife, you should click "Follow" here.